Young Studio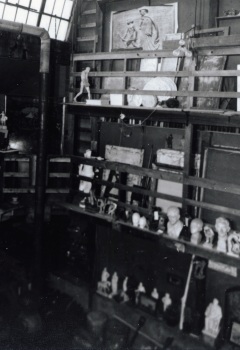 National Park Service, Weir Farm National Historic Site
Weir/Young Period
Mahonri Young wrote his friend Bill Sears on August 8th 1932, that "[t]he studio is finished..." Designed by Young's son-in-law Oliver Lay, the studio was built by Charles Meyer Builders from Wilton, Connecticut. The main studio is a one room, 2 1/2 story high building with six huge skylights puncturing the northern face of the roof. The sheer vastness of the interior prompted Mahonri to write friend Jack Sears: "[A]t last I've got a studio large enough to do anything I want to do in paint or clay...If I ever have a big thing to do again, I will do it here even if I have to stay the whole winter." These words would be prophetic, as Young would build the This is the Place Monument in this studio.
The interior of the main studio includes a north wall mezzanine, and east and west wall balconies at the second-floor level. This area would be furnished with a library's worth of reference material. Mahonri's son, Bill Young, recalled that his father "spent most of his life in a studio. When he wasn't working he would think in it (in a creative way)."
A small pre-existing structure, Caroline Weir Ely's ca. 1915 book bindery, was attached to the western side of the studio. This room uses some of the multi-paned windows that were part of the Weir Studio before renovations eliminated their use. Mahonri Young used this room for etching.
Initially the exterior of the Young Studio was painted white, with only the southern facade of the former book bindery painted red. Dorothy Weir Young's account book confirms this information in a 1934 record for painting the exterior of the Weir House with red paint, "some left for M's studio." By 1942 the south and west walls of the studio were painted red. The northern wall of the main studio might have painted white through 1946, but the exact date is unknown. The exterior of the northern facade was painted red to match the east and south studio walls.
The exact date is unknown; however, additional windows were added to the north wall between 1932 and circa 1946.
Andrews Period
The Young Studio was Sperry Andrews primary workspace. He would create numerous paintings in this studio and find inspiration from the light and surroundings. Although few alterations were done, the Andrews did add the upper balcony on the east wall of the studio. One of the Andrews son's mentioned that his father covered the first floor windows with plywood because he did not like the light these windows provided.
Today
Young Studio is being restored to circa 1940, with a planned opening in late 2013. Mahonri Young once owned many of the furnishings and art supplies in the building. However, the northwest section of the studio is furnished with objects once owned and used by Sperry Andrews.