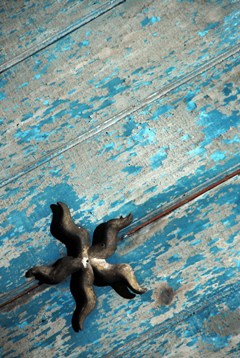 Copyright 2011. www.xiomaro.com
Weir Period
On July 7th 1885. Julian Alden Weir wrote his then sister-in-law Ella Baker that "My studio is now finished." More than a year later, in August 1886, Anna Baker Weir would be a little more descriptive about the studio telling her sister, "Julian's studio is finished, and is as comfortable as possible."
Originally, the studio was a two story high building with multi-pane windows on all sides, seen in the J. Alden Weir painting Early Spring at Branchville (1888-1890). Although the architect is unknown, Charles A. Platt is a possible influence because of the use of the multi-paned windows mirrors those used in the 1900 Weir House expansion. Inside the studio had large open space although the walls and ceiling were initially unpainted.
Additions/Alterations
The water tower was added to the southern facade of the studio circa 1901, with water pumped to the structure from a pump house and well on the east side of Nod Hill Road. A family friend, Bill DeForest, recalled being able to see the water tower from the Branchville train station.
A lean-to shed was attached to the western face of the studio sometime before 1911, blocking the four original windows. The lean-to was primarily used as wood storage, but had a small studio storage area.
The two large single paned windows that now dominate the north facade of the studio were added around 1899 to compensate for the a loss of light due to additions of the water tower, on the southern end, and the lean-to, on the west side, of the studio. At this time, the ceiling was painted a green/blue color and gilt plaster stars were added. Although Julian Alden Weir adorned the ceilings of all of his studios with stars, they were typically painted on, the use of gilt plaster stars was unique.
Although it is now gone, a wooden platform deck was built circa 1915 outside the north wall of the studio. The deck's stone base still exists as a reminder to this lost feature.
Weir/Young Period
After Julian Alden Weir died, his studio was left with his paintings in it. Aside from Dorothy Weir Young replacing the old stove with the Warm Mornings-stove, only maintenance and repainting was done to the studio during this period. However, the Weir Studio might have been minimally used as a painting studio during this period.
Andrews Period
The few changes that took place included replacing the original wood-shingle roofing with asphalt shingles, adding a metal gutter, rebuilding the chimney, and replacing the water tower stairs. As a child, the Andrews' daughter used the upper level of the water tower as a play area.
Inside the studio, Sperry and a friend installed a large etching press that was once in the Weir Barn. Additionally, large racks were installed along the walls around 1958.
Today
The Weir Studio is being restored to circa-1900 and will be historically furnished and available for tours by late 2013