Seasonal Volunteer Spotlight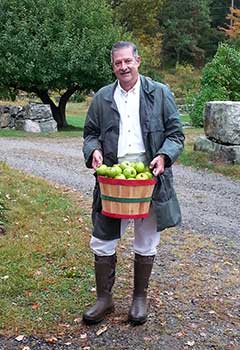 National Park Service, Weir Farm National Historic Site
Autumn Volunteer Spotlight: Richard
Meet Richard –Weir Farm National Historic Site's featured volunteer for Autumn 2014. Richard has been volunteering at the park since April 2014 and considers himself a "newbie." The park's story, resources, and volunteer opportunities very much fit his retirement plan –focusing his energy and time in horticultural activities, being a docent or guide, and continuing his education, in this case in both art and history."When you can hit on so many 2nd career priorities by volunteering in one place, it really becomes a no-brainer decision," he says.The park is so lucky to have Richard on board for his second career –volunteering!

Richard is a jack-of-all-trades volunteer, and helps out as a member of the Garden Gang and as a Studio Docent. He works hard to make this place enjoyable for visitors and always offers to help out when there is a need. Plus, he is extremely interesting and great to talk to… stop by the gardens or studios sometime and see for yourself!

Richard's first visit to the park was when he came for the initial volunteer orientation training this past April. Although he'd lived in nearby Danbury since 2007, he'd never made it to his local national park until his wife mentioned that we were looking for volunteers to help maintain the historic gardens. After attending the orientation, it became clear to Richard that he should also help out as a docent, staffing the newly opened Weir and Young Studios."Working with the Garden Gang is great fun because the other volunteers bring a certain levity to the work activities.Though serious about the results, we tend to have lots of fun at one another's expense.As a studio docent, you get to learn a lot and also to engage the public in all sorts of discussions with all ranges of ages." Also, Richard says the interests of the visitors and the dialogue that ensues with questions in the studios really makes his volunteer experiences fun and stimulating.

Although Richard enjoys so many aspects of volunteering here at Weir Farm NHS, he says his favorite in both gardens and studios is the stimulating social nature of the time spent here. He loves being able to do activities he likes to do, meet the great volunteers and National Park Service staff, spend time in all sorts of conversation, and creatively engage the public. Volunteering here "really hits on all cylinders," he says. "I would also hope that more people would elect to volunteer at the site so they can feel the same satisfaction that I have personally felt in my various volunteering activities."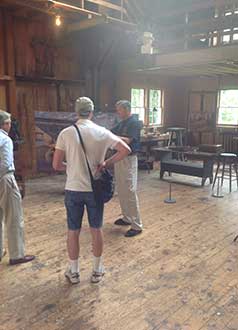 National Park Service, Weir Farm National Historic Site
Richard has also enjoyed being part of the volunteer crew during the momentous occasion of opening the Weir House, Weir Studio, and Young Studio this past May. "The restoration of the buildings at Weir Farm really defined a new chapter for this national historic site.The opening was the big hurrah which has triggered a lot of attendance by the public.The real value here is that this location offers art history, artists' biographies, regional and local history, tons of activities for tots to grandparents, all in one delightful, thoroughly scenic, reasonably compact space."

Prior to his retirement in 2008, Richard had a 31+ year international and multi-functional career with the IBM Corporation, spanning hardware, software, services, administration, and supply chain strategy. He currently lives in Danbury with his wife of 25 years, enjoying the multi-ethnic activities, festivals, and entertainment available locally.They share a passion for art, visiting museums, and travelling internationally and within the U.S.Richard has visited two other national parks while exploring the U.S.- the Grand Canyon and Acadia National Park.However, he and his wife's bucket list includes national parks in Utah, California, and Alaska, with Alaska tentatively planned for 2015. Richard also has an interest for gardening and garden design, and has participated in the Master Gardener program at the University of Connecticut.Additionally, he loves world history, current affairs, cosmology and astronomy, and science fiction programs (in particular, Dr. Who)."And yes," he says, "my car's license plate is TARDIS….eat your hearts out!"

As a volunteer and park advocate, Weir Farm NHS couldn't ask for a more intelligent, fun, and hardworking person to be part of the team. Richard, you truly are one of a kind, and we can't thank you enough for all you do!