Seasonal Volunteer Spotlight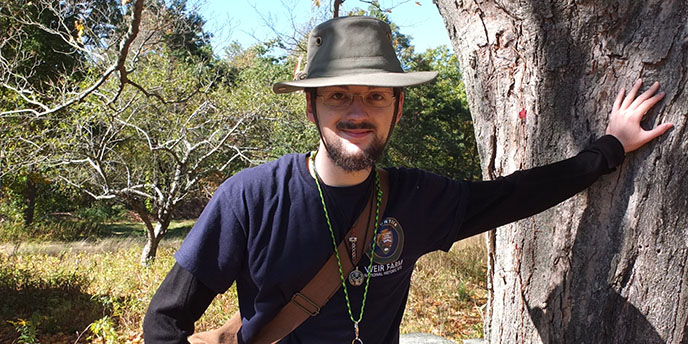 National Park Service, Weir Farm National Historic Site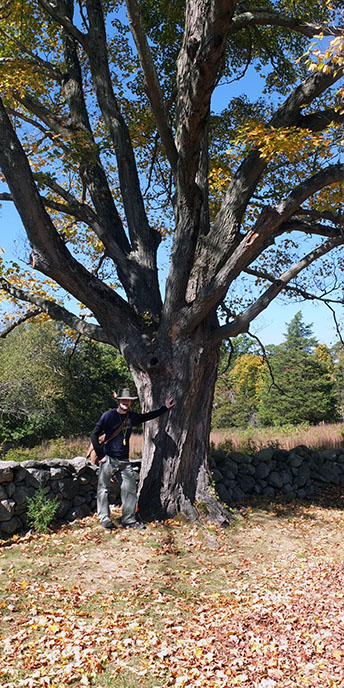 National Park Service, Weir Farm National Historic Site
Spring Volunteer Spotlight: Jon
This spring, the park would like to celebrate one of our amazing volunteers, Jon. Jon volunteers primarily with the trail monitoring crew;looking for downed trees, making note of local species he encounters, and ensuring the path to Weir Pond is safe for visitors. Since the park grounds are open every day of the year from sunrise to sunset, Jon's contribution is vital to providing a quality environment for everyone to enjoy. As essential as his service is for monitoring the trails, Jon typically goes above and beyond by sharing his vast knowledge of the flora and fauna in the park with interested early morning visitors.
As a visitor, Jon really enjoys watching the local wildlife during the early morning hours. These early morning visits, when the grounds are just open, led him to his most memorable encounter at the park. Jon recalls, "[it] occurred in early September at around 9 in the morning. I headed over to the Weir Pond trail loop as part of my routine, and just as I was walking to the top of the small rise past the bridge, I almost stumbled into a hen wild turkey and her six chicks. They looked up at me with alert eyes and remained still. I certainly didn't expect to see them in the open in the middle of the path, but I remained calm and slowly backed away, deciding to take a side path around them. After I made the detour, I looked back to see if they were still there, but they had already left, silently melting into the Sassafras undergrowth before the fringes of the forest."
Although Jon loves exploring Weir Farm National Historic Site in the early morning, when asked about his favorite national park he said; "favorite without a doubt is the Grand Canyon National Park. Just looking at the vastness of the South Rim was very humbling and spiritually moving. Some people were so overwhelmed that they were brought to tears. If you get the chance to go there, wake up early to see the sunrise…it is worth every moment." When Jon isn't traversing the South Rim of the Grand Canyon or visiting Weir Farm NHS, he loves being outdoors in all seasons; "out patrolling the trails, botanising, hiking, camping-out under the trees and stars, fly fishing, snowshoeing, or collecting firewood with my axe and bucksaw for winter, Nature will forever be a part of my life."
Jon is a supporter of the Arbor Day Foundation, and he helped preserve "a magnificent American Chestnut" outside of Dayton, Ohio. Jon currently works at the Danbury Fair Mall, but because of his volunteering service here, he has become very interested in starting a career with the National Park Service. With a passion to be "involved in [preserving, protecting, and nurturing our outdoor environment] and make a difference", we know that Jon will always find a way to share his vast knowledge and respect for nature with anyone that cares to listen.
Thank you so much for your service here Jon. It's a comfort to know you're traipsing through the same landscape Julian, Cora, Dorothy, Mahonri, and Sperry enjoyed;making sure visitors have a safe enjoyable time in this place apart.