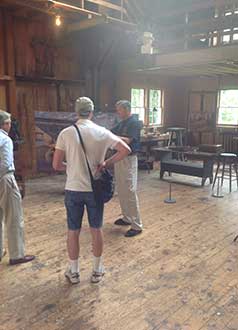 National Park Service, Weir Farm National Historic Site
Richard has also enjoyed being part of the volunteer crew during the momentous occasion of opening the Weir House, Weir Studio, and Young Studio this past May. "The restoration of the buildings at Weir Farm really defined a new chapter for this national historic site.The opening was the big hurrah which has triggered a lot of attendance by the public.The real value here is that this location offers art history, artists' biographies, regional and local history, tons of activities for tots to grandparents, all in one delightful, thoroughly scenic, reasonably compact space."

Prior to his retirement in 2008, Richard had a 31+ year international and multi-functional career with the IBM Corporation, spanning hardware, software, services, administration, and supply chain strategy. He currently lives in Danbury with his wife of 25 years, enjoying the multi-ethnic activities, festivals, and entertainment available locally.They share a passion for art, visiting museums, and travelling internationally and within the U.S.Richard has visited two other national parks while exploring the U.S.- the Grand Canyon and Acadia National Park.However, he and his wife's bucket list includes national parks in Utah, California, and Alaska, with Alaska tentatively planned for 2015. Richard also has an interest for gardening and garden design, and has participated in the Master Gardener program at the University of Connecticut.Additionally, he loves world history, current affairs, cosmology and astronomy, and science fiction programs (in particular, Dr. Who)."And yes," he says, "my car's license plate is TARDIS….eat your hearts out!"

As a volunteer and park advocate, Weir Farm NHS couldn't ask for a more intelligent, fun, and hardworking person to be part of the team. Richard, you truly are one of a kind, and we can't thank you enough for all you do!