Park Closures September 7, 2014

Please note that on Sunday, September 7th, the parking lot, visitor center, Weir Studio, and Young Studio will close at 1 pm for the annual Jazz in the Garden event. The 1pm, 2pm, and 3pm tours of the Weir House will not be offered.
Be A Junior Ranger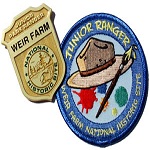 Junior Ranger Activities
Kids can earn a Junior Ranger badge by completing one of the following activities, they earn a special Junior Ranger patch by completing two activities. However, kids will get a Junior Ranger badge, two different Junior Ranger patches, and a Junior Ranger pin for completing all three activities!
NOTE: Print PDFs double-sided on the short edge.
Junior Ranger Letterboxing Booklet
The Junior Ranger Letterboxing Booklet directs you to use clues to navigate the landscape and locate stamps in hidden locations. Five containers, or letterboxes, have been hidden at various locations at the park.
LETTERBOX Cover Backcover Directions 9 (PDF - 5.38 MB)
LETTERBOX Page 1, Page 2, Page 7, Page 8 (PDF - 1.31 MB)
LETTERBOX Page 3, Page 4, Page 5, Page 6 (PDF - 491 KB)
Junior Ranger Pond Pack Booklet
For those choosing a nature walk, we have a Junior Ranger Pond Pack, a backpack containing art and nature-oriented activities to complete on a hike around Weir Pond.
POND PACK Cover Backcover Directions Stop 6 (PDF - 6.38 MB)
POND PACK Stops 1 2 3 4 5 (PDF - 3.09 MB)
Junior Ranger "I Spy" Booklet
If you plan on taking a guided tour of the Weir House, pick up this booklet. Find the objects listed in the booklet during your tour of the Weir House, write down where you found them, and bring the information back to the Burlingham House Visitor Center to complete this activity.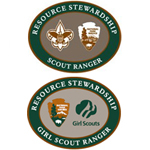 Scout Ranger
Girl Scout and Boy Scout groups can earn special badges and certificates for completing our Junior Ranger Activities. Groups should contact (203) 834-1896 x11 for more information.
Web Ranger
The National Park Service has a great Junior Ranger program for kids of all ages on line. You can play more than 50 games and learn about your National Parks
Read More


Did You Know?

Painter Julian Alden Weir installed stars on the ceiling of all three of his studios. He had three studios: one in New York City, one in Windham, CT and one behind his home in Branchville, CT. Visitors will be able to see the original stars in his Branchville studio at Weir Farm National Historic Site once the Weir Studio has been restored in late 2013.