Water everywhere! Time to paint?
May 31, 2013
        The dreary weather of last week has disappeared and the early summer heat has returned with a vengeance. Many of the bright flowers that so captivated visitors' camera lenses for the past few weeks have already surrendered to the overwhelming assault of green, and the sun has unleashed its most unforgiving rays, indiscriminately bestowing sunburns on unsuspecting noses and shoulders and necessitating the use of sunglasses. Quite appropriate then, that yesterday's staff meeting focused on safety precautions and heat stroke awareness. Integrated Resources Program Manager Greg led the group in a nail-biting emergency simulation involving hypothetical groundskeepers Lars, Olaf, and several unfortunate events that befell them; ie., heatstroke, ladder mishap, eye poked by vicious lilac branch. Remember to slather on the sunscreen, drink plenty of water, and always have your cell phone with you before setting off on your next visit to Weir Farm National Historic Site!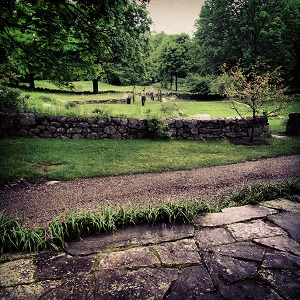 This week, Emma and I hosted our first slew of school group, a small gaggle of eighth graders from a tiny school in upstate New York on Wednesday and today, several dozen enthusiastic third graders from Bethel. I love how everyone, especially the younger children, seems to genuinely enjoy sketching or painting after the park tours. Admittedly, their artistic sensibility exceeds mine many times over; after middle school, I did not enroll in any drawing or painting classes because my brother became the self-proclaimed artist of the family, and I never felt as if my artistic creations, if one can call them that, were adequate. But being here at Weir Farm National Historic Site and observing how unselfconscious students and staff are about creating and participating in the artistic process has sparked a dormant vein to pick up a palette, go forth with pastels, venture into watercolors. It is almost as if the spirit of Julian Alden Weir and all the artists who succeeded him at his property still lie amongst the lilac branches, inviting all who enter to create, explore, expand.
painting, water, julian alden weir