Burlingham House Visitor Center Closed

Please note the visitor center is closed December 1, 2013 through March 31, 2014. Park grounds are open daily year-round from dawn to dusk. Maps, brochures, and the Passport to Your National Parks stamp are available on the porch of the visitor center.
Winter Weather Information

Although park grounds remain open in snowy weather, snow removal will be minimal and restrooms may be locked. Be aware and plan ahead, as trails and parking areas may not be cleared. Use caution if driving to the park, as road conditions may be hazardous.
Thank You Weir Farm
"National Park Service, Weir Farm National Historic Site. This is Emma speaking."  From answering phone calls, to leading hikes around Weir Pond, to cleaning art supplies, my internship here at Weir Farm National Historic Site has been a delight, and I am forever grateful to all the staff for welcoming all of us interns into the family.  On my first day of work a month ago, I was given a bright orange pin that reads "Julian Weir Lives," but only recently have I discovered what these words mean to me.  By passing along Julian Weir's story to visitors or walking past the same tree that he painted a hundred years ago, the spirit of Weir is alive every day and I am lucky enough to have been able to share this with others.  Below is a picture of the final presentation that Alosha and I, along with the other interns put together for school about working at Weir Farm National Historic Site, and if I do say so myself, it was a hit! (Especially the giant paintbrush!)
Thank you to everyone who has been following our blogs and thank you to all the staff at Weir Farm National Historic Site!
National Park Service, Weir Farm National Historic Site.  This is Emma, signing off.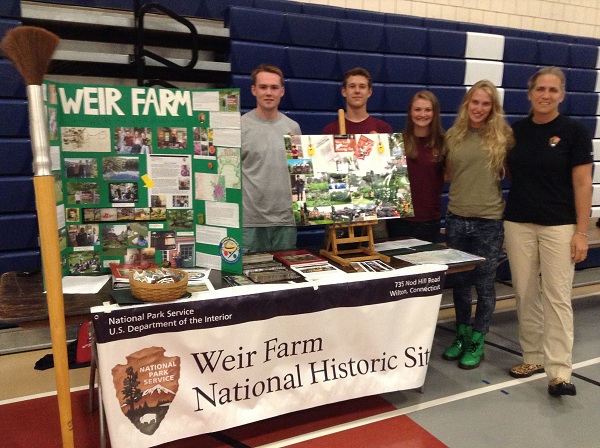 Post A Comment
Did You Know?

Weir Farm National Historic Site in Connecticut was established as a part of the National Park Service on October 31, 1990.