Searching for all the colors of the wind.
          I've been exploring the park and during a hike around the pond (which I encourage all of you to do!), I was struck with how green everything looked.  After the dull colors of winter, I felt a little like I had stepped into the Emerald City in Oz.  The pond is a wonderful place to visit and has been the inspiration for many artists.  I've learned the park offers a program called "Take Part in Art" which loans art supplies to visitors.  One of my varied internship tasks, and a fun one I might add, was cleaning trays filled with watercolor paints that are included in some kits.  The bright strip of paints made me think about colors, other than green, that I might spy around the farm.  Camera in hand, Alosha and I, decided to go on a color hunt.  Finding red was easy, as most of the buildings at Weir Farm National Historic Site are painted red.  Take a look at the photos I took to see the other colors we found, some not as obvious.  It turns out the farm is filled with a rainbow of colors just like the strip of watercolor paints.  You just have to take time and look.  And, the best part is that you don't have to travel 'somewhere over a rainbow' to see what I saw…just visit the park.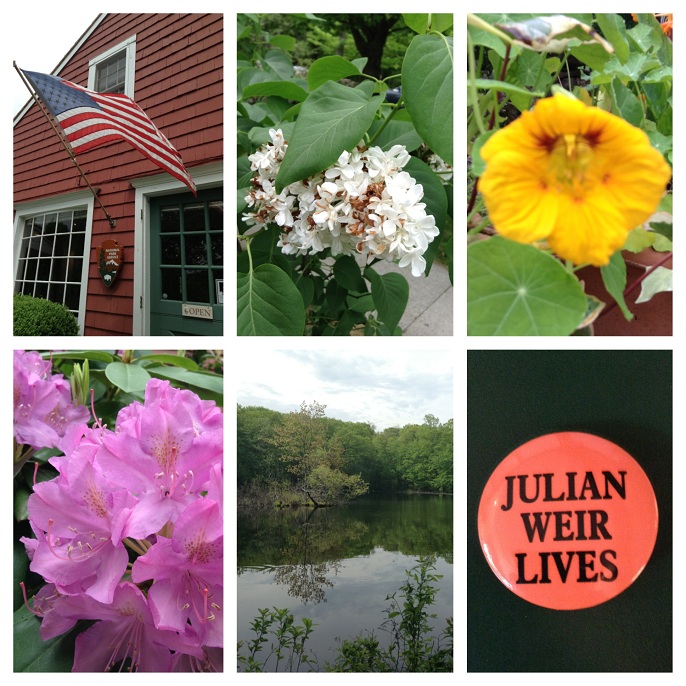 Part of Emma's color hunt (left to right: Entry door to the Burlingham House Visitor Center, lilacs, nasturtium, rhododendron, Weir Poind, Julian Weir Lives pin).
flowers, weir pond, color, take part in art