Park Closures September 7, 2014

Please note that on Sunday, September 7th, the parking lot, visitor center, Weir Studio, and Young Studio will close at 1 pm for the annual Jazz in the Garden event. The 1pm, 2pm, and 3pm tours of the Weir House will not be offered.
Junior Rangers
Intern Emma Blog 5 – Junior Rangers
"I, ____________, promise to appreciate, respect, and protect all national park areas so they can be enjoyed by future generations.  I also promise to continue learning about the landscape, plants, animals, and history of these special places."  
This afternoon, I had the opportunity to help induct some new junior rangers.  The smiles on all their young faces were contagious as they repeated the pledge to receive their badges.  Since my first day on internship, my favorite thing to suggest to visitors is our junior ranger program.  Here at Weir Farm National Park Service, we have the unique junior ranger letterboxing program that leads visitors on a scavenger hunt through the property to find boxes hidden in the landscape.  Whether you have to count 35 paces or find the double tree, the program can be completed in an hour and can be fun and educational for people of all ages.  Alosha and I for instance, completed the program during our first week, and in my opinion you are never too old to be a junior ranger.  I have completed around seven junior ranger programs at different National Park Service locations throughout the country, and I find them to be a very effective overview of what the park is all about.  Make sure you ask about the program next time you are at the park, no matter what age you are!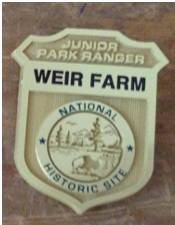 junior ranger, protect, respect, appreciate
Post A Comment
Did You Know?

Weir Farm National Historic Site in Connecticut was established as a part of the National Park Service on October 31, 1990.