Burlingham House Visitor Center Closed

Please note the visitor center is closed December 1, 2013 through March 31, 2014. Park grounds are open daily year-round from dawn to dusk. Maps, brochures, and the Passport to Your National Parks stamp are available on the porch of the visitor center.
Winter Weather Information

Although park grounds remain open in snowy weather, snow removal will be minimal and restrooms may be locked. Be aware and plan ahead, as trails and parking areas may not be cleared. Use caution if driving to the park, as road conditions may be hazardous.
Introducing Mike!
Introducing Mike!
Believe it or not, Weir Farm National Historic Site has not only been graced by the presence of Alosha and I, but there are also two other interns from Wilton High School, Mike and Sacha.  While Alosha and I are working with Interpretation, Mike and Sacha have been laboring away with the Natural Resources staff around the grounds.  We thought it would be nice to let them out of the heat for a few minutes to interview them as part of this blog, and who knew that thinking of fun facts would be such a process!  Here is some information I learned about Mike. Next year he will be attending the University of British Columbia in Vancouver to study geological engineering, and he thought that Weir Farm National Historic Site would be the perfect place to complete his senior internship.  He gets the satisfaction of helping the National Park Service and is also lucky enough to work outside in the beautiful (well mostly beautiful) spring weather.  A typical day of work includes removing invasive plant species, "deadheading" trees, and completing general maintenance tasks around the farm.  To learn even more about Mike, here are three fun facts:                
-Mike can play four different instruments: piano, cello, clarinet, and saxophone                
-He plays two varsity sports – soccer and ice hockey                
-He is Canadian
Next time you are at the park look out for Mike somewhere on the grounds to say hi and also don't forget to head over to Alosha's blog for some information about Sacha!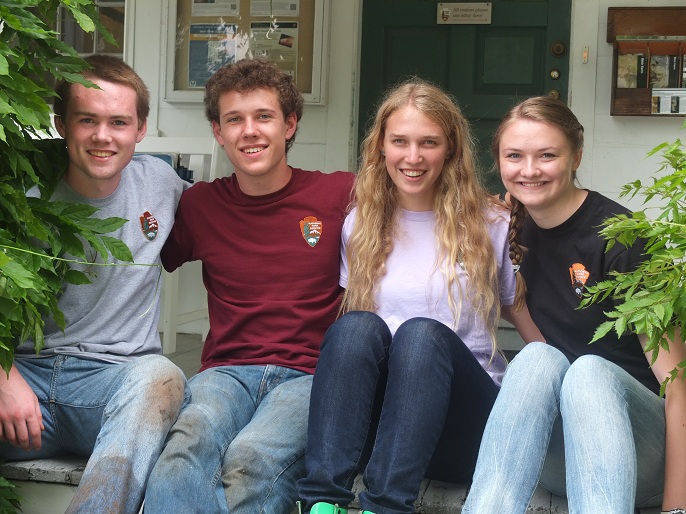 Again with the four interns for 2013. Mike is found furthest on the left.
canada, Intern, Natural Resources
Post A Comment
Did You Know?

The Land of Nod was the name given to his property, now preserved as Weir Farm National Historic Site, by Julian Alden Weir and his artist friends. Both Weir and Childe Hassam used the phrase to title works that were inspired by the local landscape.