Burlingham House Visitor Center Closed

Please note the visitor center is closed December 1, 2013 through March 31, 2014. Park grounds are open daily year-round from dawn to dusk. Maps, brochures, and the Passport to Your National Parks stamp are available on the porch of the visitor center.
Winter Weather Information

Although park grounds remain open in snowy weather, snow removal will be minimal and restrooms may be locked. Be aware and plan ahead, as trails and parking areas may not be cleared. Use caution if driving to the park, as road conditions may be hazardous.
In the Blink of an Eye
I have been learning new ways to think about art every day.  Last week I met one third grader in particular that told me she loved to take pictures with her eyes.  Confused, I asked what she meant.  She replied very matter of fact that you just have to blink really fast.  At the time I just laughed it off, but now that I have had more time to digest what she said I have realized that every person has their own approach to art like taking a snapshot with your eyes.  A goal of Weir Farm National Historic Site is to preserve the landscape and buildings so that they remain the same as how Julian Alden Weir would remember them.  This way when visitors come to the park they can create their own pieces of art that mirror the opportunities that all three generations of artists on this park, Weir, Young, and Andrews, would have seen as well.  In watching all the school groups, it is nice to see that every child can find something to paint or draw in the outdoors on their visit to the park.  Whether it is a flower, a rock, or a detailed painting of the garden, everyone can find what they see as art and with plenty of time can create their own masterpieces.  Since being here I have attempted to embrace my inner artist as well by drawing the Sunken Garden and some flowers that can be seen just outside the visitor center.  Take a look and maybe you will be inspired as well!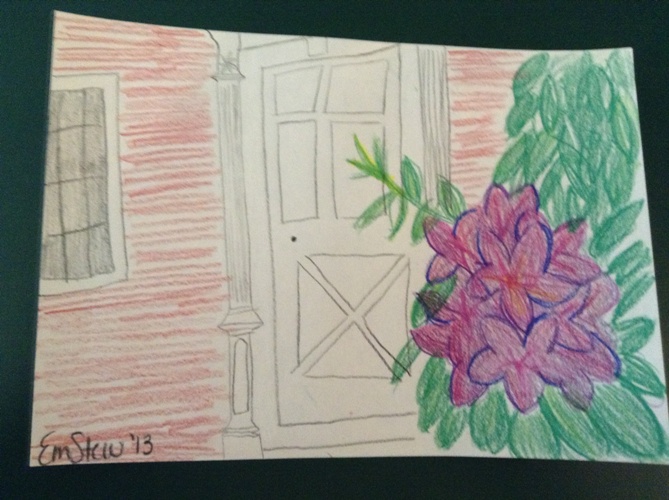 Emma's flower drawing.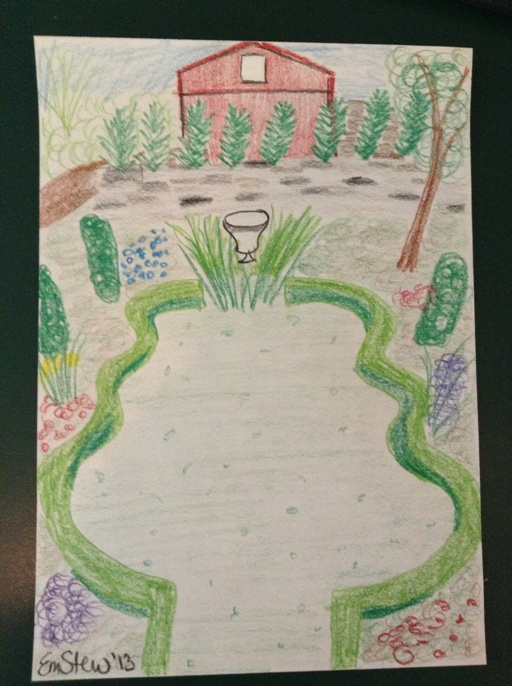 Emma's drawing of the Sunken Garden.
drawings, sunken garden, take part in art
Post A Comment
Did You Know?

Weir Farm National Historic Site is located in both Wilton and Ridgefield, Connecticut. The main house is located in Ridgefield and the visitor center is in Wilton.