Weir House, Weir Studio, and Young Studio Under Restoration

The historic Weir House, Weir Studio, and Young Studio are currently undergoing restoration and are closed to the public. The Burlingham House Visitor Center and park grounds remain open and available during regular hours. More »
Winter Weather Information

Although park grounds remain open in snowy weather, snow removal will be minimal and restrooms may be locked. Be aware and plan ahead, as trails and parking areas may not be cleared. Use caution if driving to the park, as road conditions may be hazardous.
Hello Goodbye
June 7, 2013            
While Emma and I have been plowing through our internship in the Education and Interpretation departments of Weir Farm National Historic Site, two of our fellow classmates, Mike and Sacha, have also been interning in the maintenance and grounds-keeping arena of the site. Today I sat down with Sacha Gilles to learn more about his Weir Farm National Historic Site experience.            
When not at Weir Farm National Historic Site, Sacha is either starring in plays (most recently as Enjolras in our high school production of Les Miserables), running faster than you on the track team, or speaking a different language (he is trilingual; French, English, Spanish). Being interested in environmental science and wanting to be outside, he chose to intern at Weir Farm National Historic Site rather than neighboring Ambler Farm because of its status as a national historic site. While here, he has been working alongside Jill Anderson, fully engrossed in weeding, pruning, mulching, as well as learning about park history and daily park functions. His favorite place in the world is Morocco, where his father was born, and despite his youthful countenance, he is already an uncle to two nieces and one nephew who live in Canada and Denmark. Next year he will travel to Ecuador with the Rotary Youth Exchange to experience a new culture and see a different part of the world before attending McGill University in Montreal.             Do take a gander at Emma's blog to meet Mike! We four fabulous interns have only one week left at Weir, so do stop in next week to say "Hello Goodbye."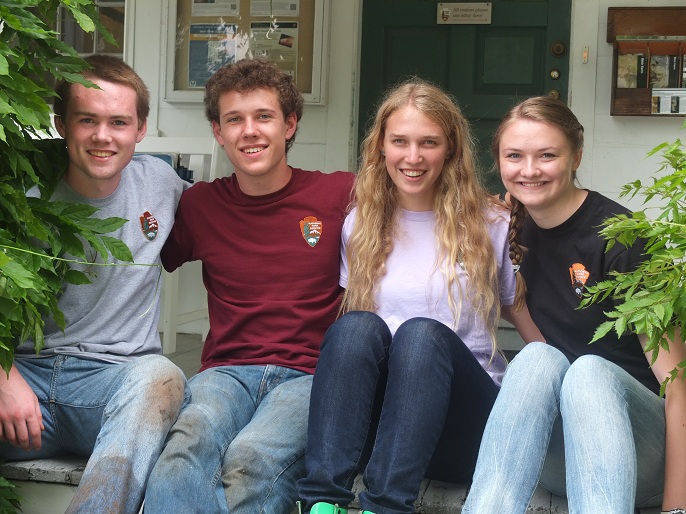 Here are Weir Farm National Historic Site's four interns for 2013 (Sacha is 2nd from the left).
Sacha, Intern, Natural Resources
Post A Comment
Did You Know?

Weir Farm National Historic Site is located in both Wilton and Ridgefield, Connecticut. The main house is located in Ridgefield and the visitor center is in Wilton.