Weir House, Weir Studio, and Young Studio Under Restoration

The historic Weir House, Weir Studio, and Young Studio are currently undergoing restoration and are closed to the public. The Burlingham House Visitor Center and park grounds remain open and available during regular hours. More »
Winter Weather Information

Although park grounds remain open in snowy weather, snow removal will be minimal and restrooms may be locked. Be aware and plan ahead, as trails and parking areas may not be cleared. Use caution if driving to the park, as road conditions may be hazardous.
Emma's First Blog Post
Hi, I'm Emma! I am currently a senior at Wilton High School and I have the privilege of interning at Weir Farm National Historic Site this month.  Next fall I will be attending the University of Connecticut in Storrs to study environmental science.  When my high school offered the internship program to graduating seniors I knew that I wanted to work at this national treasure located right here in my hometown.  With my previous experience of working alongside park rangers in the Youth Conservation Corps program in Yellowstone National Park last summer, I wanted the opportunity to learn even more about the park service.  Along with Alosha, I will be staffing the visitor center, helping around the park, and blogging about my experiences.  Since you might want to know more about me, here are three random facts about myself.
I love to bake (and eat) "brookies"
I can say the alphabet backwards
Harry Potter fan… enough said
Be sure to say hi to me the next time you visit Weir Farm National Historic Site!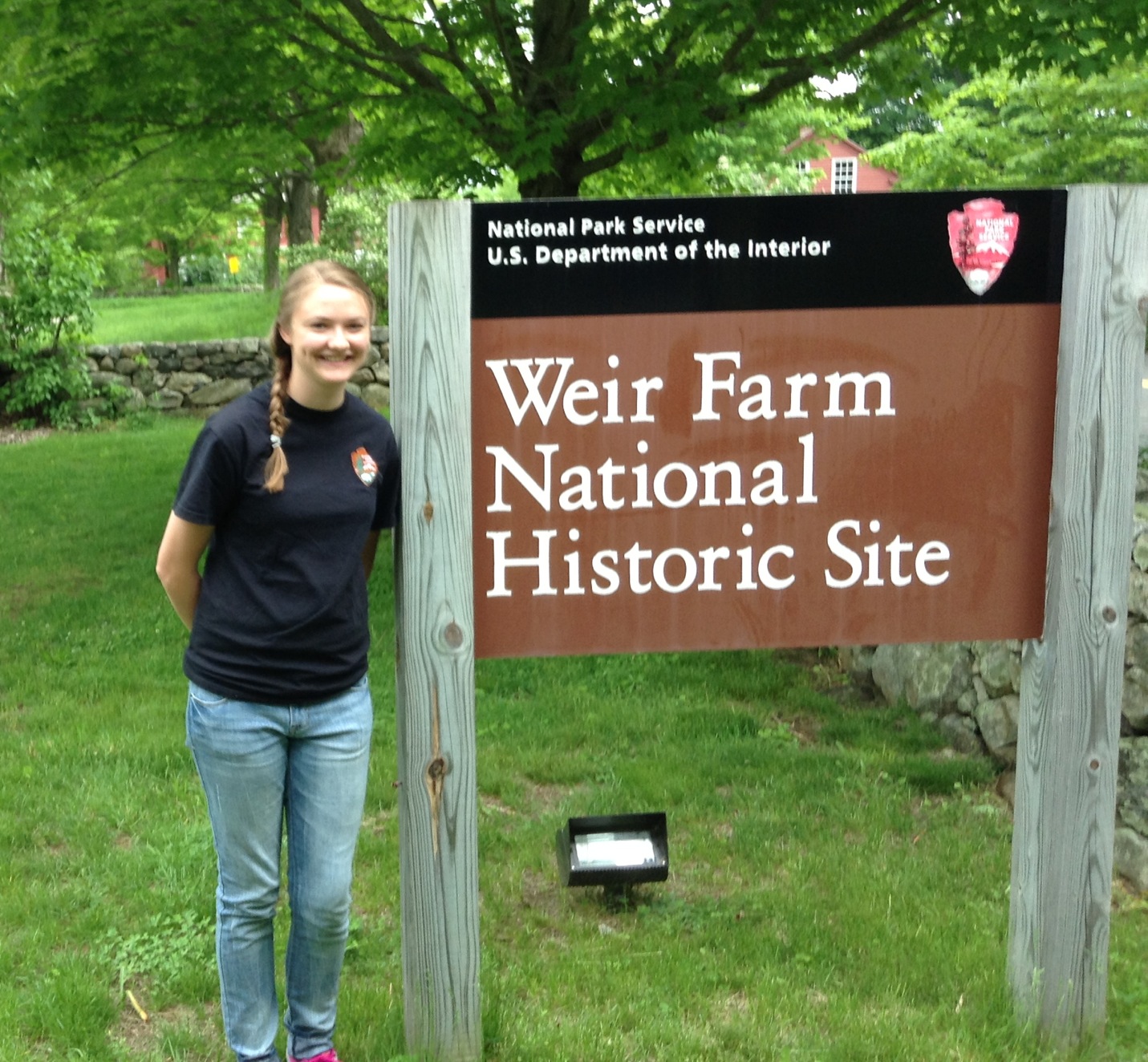 Emma next to the sign for Weir Farm National Historic Site.
Post A Comment
Did You Know?

Weir Farm National Historic Site was home to six artists: painter Julian Alden Weir, sculptor Mahonri Young, painter Dorothy Weir Young, painter Doris Andres and painter Sperry Andrews. More...