Park Closures September 7, 2014

Please note that on Sunday, September 7th, the parking lot, visitor center, Weir Studio, and Young Studio will close at 1 pm for the annual Jazz in the Garden event. The 1pm, 2pm, and 3pm tours of the Weir House will not be offered.
Alosha's First Blog Post
Hi Everyone! My name is Alosha, and for the next few weeks I will be a fulltime student intern at Weir Farm National Historic Site. For the past several years, I have been fortunate enough to live within jogging distance of Julian Alden Weir's picturesque property. My family and especially my two little dogs have enjoyed many hours ambling about the park grounds, and I loved the idea of completing my senior internship in a location convenient, familiar, and serene. Although I am by no stretch an artist myself, as a writer, I can relate to the artistic process and appreciate Weir Farm National Historic Site's goal of promoting both the stewardship and the practice of art. This aspect of the park truly differentiates it from other national parks and historic areas, and thus another reason I was drawn to volunteer here.When not staffing the visitor center, I can be found running (I am a captain and proud member of the Wilton girls track team), reading, writing, lifeguarding, and acquiring and drinking coffee. Just last week, I went on my first official tour of the grounds, and I really do feel as if I am amassing new snippets of knowledge about the history of the park and its everyday functions each day. Next time you're visiting the park, stop in and say hello! I look forward to chatting with you all.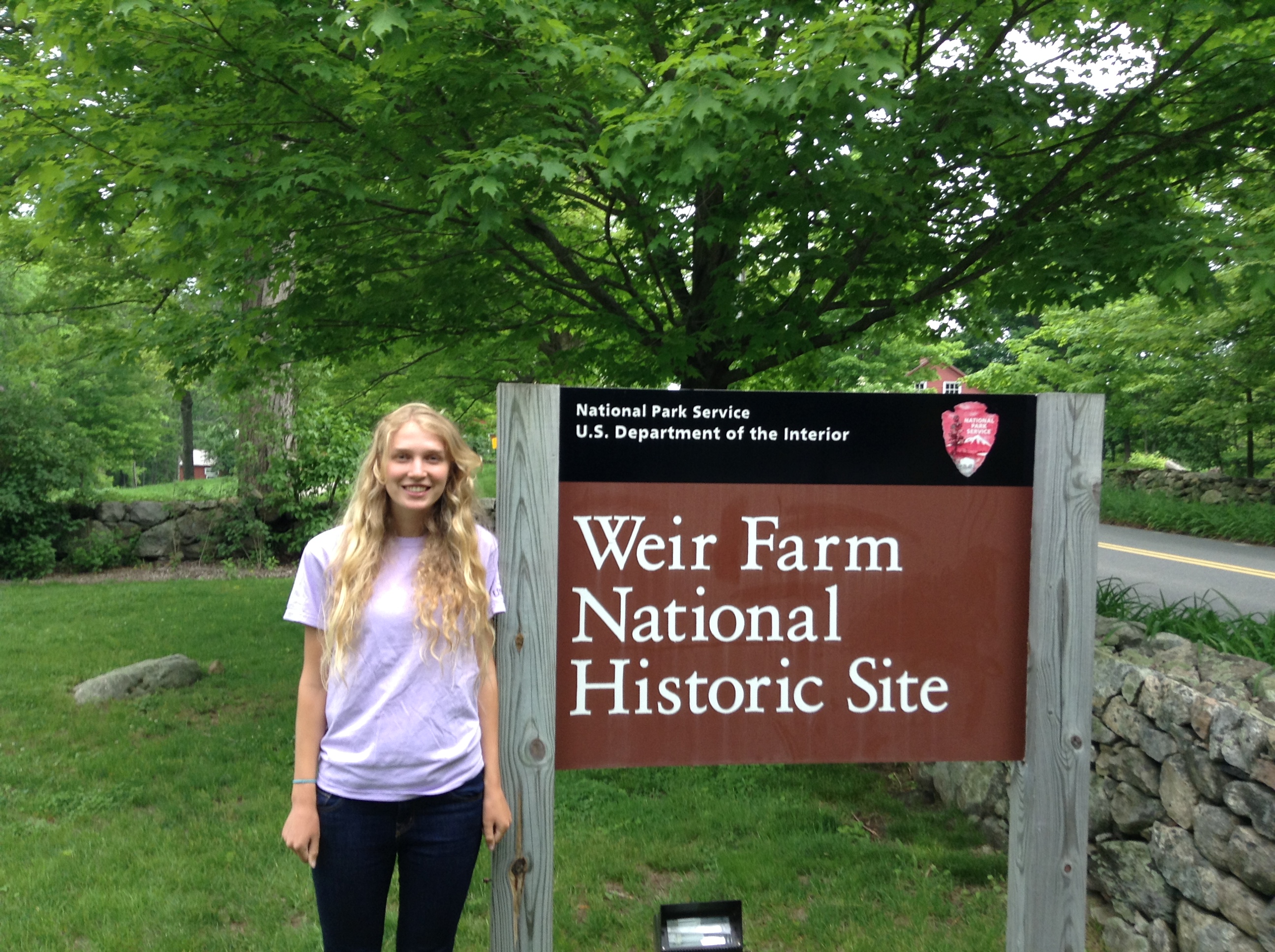 Alosha next to the Weir Farm National Historic Site sign.
Post A Comment
Did You Know?

Painter Julian Alden Weir wanted to build a rural retreat in the Keene Valley area of the Adirondacks, but decided instead that his farm in Branchville, Connecticut, now preserved as Weir Farm National Historic Site, would make a more suitable home for his family.