No Swimming at Asan Beach

Avoid swimming at Asan Beach until further notice. Guam EPA has issued a sewage leak advisory affecting the waters off Asan. Mild to severe illness may occur if you are in contact with contaminated water. For more information, call Guam EPA at 333-4751. More »
YCC Announcement
Date:
February 27, 2013
Contact:
Theo Chargualaf
, 671-477-7278 x1005
This summer the War in the Pacific National Historical Park will once again host the Youth Conservation Corps (YCC) program and will be accepting applications between now and April 5, 2013.
The Youth Conservation Corps (YCC) is a well-balanced work-learn-earn program that develops an understanding and appreciation in participating youth of the nation's environment and heritage. YCC participants will engage in a wide variety of conservation and park operations activities that will teach them about our National Park and the National Park Service's mission to protect special places for all.
The park will hire up to 4 youths in the YCC program at the federal minimum wage. The program will run for up to eight weeks, with participants working 40 hours per week, Monday through Friday. The program will begin the pay period beginning June 3, 2013 and go through July 26, 2013. Enrollees must be at least 15 years of age on June 3, 2013 and no older than 18 on July 26, 2013. To apply, applicants must fill out an application and if not 18 years of age, have a parent's or guardian's signature. You will only be contacted if you (or your child) have been selected.
Applications can be downloaded here or picked up at the following locations:
War in the Pacific National Historical Park
Administrative Office

135 Murray Boulevard, Suite 100
Hagåtña, Guam 96910 
Monday - Friday, 9am - 3pm
T. Stell Newman Visitor Center
Bldg 1657-B, old Army Reserve Center
Santa Rita, Guam 96915
Sunday - Saturday 9 am - 4:30 pm
Please submit original, signed copies of the application form to the park visitor center or administrative office. If you have specific questions or concerns, feel free to email us or call Theo K. Chargualaf at 477-7278, extension 1005.
Did You Know?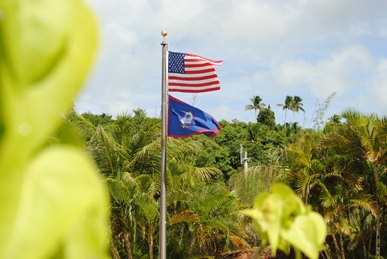 Guam is a United States territory, 3,800 miles southwest of Hawaii?