Asan Beach Unit Closed Off a Section Due to Little Fire Ants

Due to the presence of the invasive Little Fire Ant, War in the Pacific National Historical Park has closed a part of the Asan Beach Unit. More »
Additional Closure in Asan Beach Unit

The park has closed an additional area along Asan Beach due to the invasive Little Fire Ant. More »
Temporary Closure of Asan Bay Overlook

Renovations have begun at the Asan Bay Overlook, including removal and replacement of panels at the Memorial Wall. To ensure visitor safety and provide space for equipment, sections of the site will be closed to the public through mid-July. More »
War in the Pacific Park Programs February 2014
News Release Date:
January 30, 2014
Contact:
Ben Hayes, 671-333-4051
SCHEDULE OF EVENTS FOR THE MONTH OF FEBRUARY 2014
Throughout February :
The T. Stell Newman Visitor Center hosts spectacular exhibits and movies about the history and natural resources of Guam and an outstanding bookstore operated by Pacific Historic Parks, our supporting non-profit partner. The visitor center is open every day from
9 am - 4:30 pm
and is located just outside Naval Base Guam main gate. 
February 1

,

Saturday: 11 am

at Asan Bay Overlook - "Courage Through Faith"
- The plight of the Chamorros during the Japanese occupation came to a head in the tragic story of Father Jesus Baza Duenas, one of the two Catholic priests that remained on island. Find out how strong beliefs overcame the power of a brutal enemy force. (30 minutes)
February 2

,

Sunday: 2 pm

at Ga'an Point - "Ships of War"
- Learn the story of one of the ships that fought in World War II and participated in the battle for Guam. (30 minutes)
February 8

,

Saturday: 2 pm

at Asan Beach - "Rising Sea Level"
- We've all heard the terms climate change, global warming, sea level rise, and ocean acidification, but what does all that really mean? Meet at the restrooms and learn about the causes of rising sea levels and the changes the rising ocean will bring to Guam's coastline. (30 minutes)
February 9

,

Sunday: 2 pm

at Asan Bay Overlook - "Prisoners"
- By mid-January 1941, all military dependents on Guam had been evacuated, except for one. Hear the story of a young mother, a newborn, and five navy nurses who helped each other when war came to Guam. (30 minutes)
February 15

,

Saturday: 11 am

at Asan Beach - "The Land Remains"
- Meet at the restrooms and explore the history of Asan Ridge through a fun hike. (45 minutes) 
February 16

,

Sunday: 2 pm

at visitor center - "Science

Sunday

"
- Julie Hartup, Marianas' Islands Project Leader of Manta Trust, will share her research on the graceful manta rays around Guam, Palau, and other areas in Micronesia and highlight the importance of marine conservation. (one hour)
February 22

,

Saturday: 1 pm

at the visitor center - "Curator's Corner"
- Learn how persuading the American public became a wartime industry, almost as important as the manufacturing of bullets and planes.  View iconic and provocative propaganda art and artifacts from the park's museum collection and gain insight into Japanese and American propaganda methodology during the Second World War. (two hours)
February 23

,

Sunday

: -

2 pm

at Piti Guns - "Guns Hike"
- Meet at the Veterans Cemetery on Route 6 and we'll caravan to the short hiking trail that leads to three large coastal defense guns. Although these are the only guns in their original positions protected by the park, we'll discover another reason why they are particularly unique. (45 minutes)
Did You Know?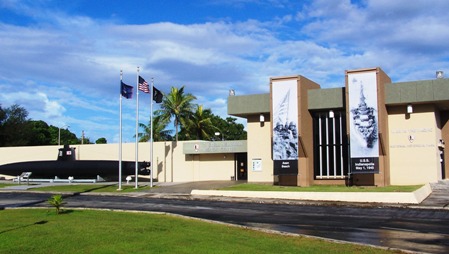 War in the Pacific's visitor center is named for the park's first superintendent, T. Stell Newman?