Asan Beach Unit Closed Off a Section Due to Little Fire Ants

Due to the presence of the invasive Little Fire Ant, War in the Pacific National Historical Park has closed a part of the Asan Beach Unit. More »
Additional Closure in Asan Beach Unit

The park has closed an additional area along Asan Beach due to the invasive Little Fire Ant. More »
Temporary Closure of Asan Bay Overlook

Renovations have begun at the Asan Bay Overlook, including removal and replacement of panels at the Memorial Wall. To ensure visitor safety and provide space for equipment, sections of the site will be closed to the public through mid-July. More »
SCHEDULE OF EVENTS FOR THE MONTH OF JUNE
News Release Date:
May 30, 2014
Contact:
Ben Hayes
, 671-333-4051
SCHEDULE OF EVENTS FOR THE MONTH OF JUNE 2014
Throughout June - The T. Stell Newman Visitor Center hosts spectacular exhibits and movies about Guam's history and natural resources as well as an outstanding bookstore operated by Pacific Historic Parks, our supporting non-profit partner. The visitor center is located just outside Naval Base Guam main gate and is open daily from 9 am - 4:30 pm.
June 1, Sunday: 2 pm at Ga'an Point - "Agat Amtrac"
- During the 1944 Battle of Guam, some Liberators didn't even make it to shore. Find out how an offshore wreck shows the surprising, unintended destinies of these Marines and their machines.
June 7, Saturday: 2 pm at Apaca Point - "The Impact of Chuuk"
- The island-hopping campaign across the Pacific brought new challenges, yet large pay-off, for American forces. Learn about the devastation of Chuuk, a single step in the march toward Japan, but to its Micronesian residents, the only world they'd ever known. (30 minutes)
June 8, Sunday: 2 pm at Ga'an Point - "Courage Through Faith"
- The Chamorros' struggle during the Japanese occupation came to a head in the tragic story of Father Duenas. How did strong beliefs overcome the power of a brutal enemy force? (30 minutes)
June 14, Saturday: 2 pm at Piti Guns - "Guns Hike"
- Meet at the Veterans Cemetery on Route 6 and we'll caravan to the short hiking trail that leads to three large coastal defense guns. Although these are the only guns in their original positions protected by the park, we'll discover another reason why they are particularly unique. (1 hour)
June 15, Sunday: 2 pm at the Visitor Center - Science Sunday
- Join us for an intriguing science presentation and discussion from a special guest speaker. Call the visitor center for more details. (1 hour)
June 21, Saturday: 1 pm at the Visitor Center - "Curator's Corner"
- When the 3d Marine Division stormed Asan Beach 70 years ago, they set foot on a place already layered with thousands of years of human history. Track Asan's progression from village to battlefield to park through a special hands-on presentation. (2 hours)
June 22, Sunday: 9 am at Asan Beach - "Soldier's Story"
- Meet at the restrooms for a short hike to the spectacular view from Asan Ridge, then listen to a tragic story of one Marine who fought here in 1944 and left his name he left behind. (1 hour)
June 28, Saturday: 2 pm at Asan Beach - "Prisoners"
- By October 1941, all military dependents on island had been evacuated, except for one. Hear the story of a young mother and five navy nurses who bravely banded together when war came to Guam. (30 minutes)
June 29, Sunday: 11 am and 2 pm at the Visitor Center - "Calm Before the Storm"
- View a special screening of the rare black-and-white and color movies of pre-war Guam. Learn about the Chamorro people that gave the ultimate sacrifice defending Guam from Japanese invasion in December, 1941. (30 minutes)
                                                                        -NPS-
Did You Know?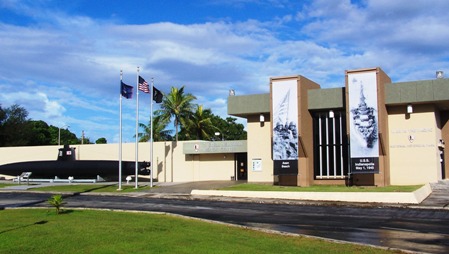 War in the Pacific's visitor center is named for the park's first superintendent, T. Stell Newman?