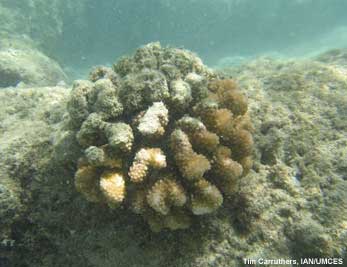 Coral reefs at the park may be less resistant to ocean acidification and bleaching.

Current threats to coral reefs at War in the Pacific National Historical Park will only be increased by climate change. For example, low numbers of herbivores (a result of overfishing) and poor water quality (caused by sedimentation from run-off on the land) put stress on corals. If corals are already living under stressful conditions, they become less resilient or less able to adapt to changes in the environment (Burdick et al. 2009). In the face of climate change, corals must contend with changing conditions, such as rising water temperatures and ocean acidification. Those corals already under stress will become less healthy as the alterations brought on by climate change become even more pronounced.

Ocean acidification also affects coral populations. Already, reef monitoring has recorded low coral recruitment (the number of juvenile corals that settle on a reef) in this park (NPS 2009); Warmer water temperatures and the ocean acidification associated with a change in water chemistry (lower pH) will reduce or prevent coral growth (Kleypas et al. 2006). With low coral recruitment and slowed coral growth, coral reefs are less able to maintain their structure and are more easily damaged by waves and storms.
Although severe bleaching events have not been observed in the park, increased water temperatures make strong, regularly-occurring bleaching events more likely in the future (Burdick et al. 2009).