Watch this video to learn more about the biodiversity of Guam's coral reefs.

Duration:

58 seconds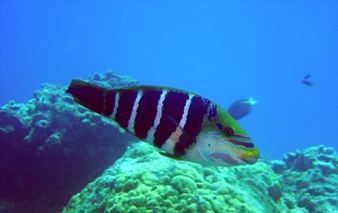 Coral reefs at War in the Pacific National Historical Park have incredible biodiversity.
An astounding number of organisms make their homes on the coral reefs of War in the Pacific National Historical Park in the waters of Guam-in fact, more species of corals, fish, and invertebrates live on these reefs than on the coral reefs of Hawaii or Samoa. This incredible biodiversity makes for an amazing and complex ecosystem. On Guam reefs, you will find herbivores such as kichu, (convict tangs), and palakse (bullethead parrotfish), and predators such as Iʻe (jacks) or gadao, (groupers). Traditionally, these fish were an important part of the Chamorro diet, and are still fished for food today. The diversity of the plants and animals found on these reefs is rarely matched anywhere in the world.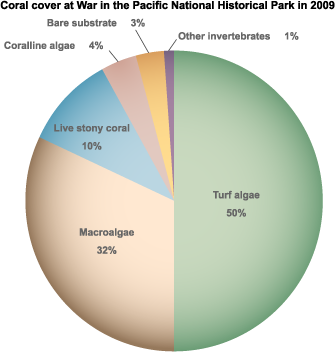 Though there is high coral diversity, few juvenile corals are growing on the reef.
In addition to historical resources, the park also contains over 1,000 acres of marine ecosystems. Fringing coral reefs provide shelter and food for a wide diversity of corals and fish. Yet scientists have observed a decrease in the number of new or juvenile corals on the reef. Monitoring suggests that low coralline algae cover (4%) could be one cause of this decrease in juveniles (NPS 2009). Corals settle and grow on coralline algae, and when there is not appropriate algae cover, fewer corals can grow. In this park, low coralline algae cover may be connected to low live stony coral cover (10%; NPS 2009). If the number of juvenile corals does not increase, live stony coral may become increasingly rare on these reefs. Cover refers to the space covered by a particular organism on a reef or seafloor when viewed from above. Scientists often use changes in coral cover over time to monitor the overall health of a coral reef.

Learn more about the park's reefs at Teach Ocean Science, a collaborative effort between the National Park Service and other partners.