Washington Monument Closed

The Washington Monument is closed for repairs due to an earthquake on August 23, 2011. More »
Things To Know Before You Come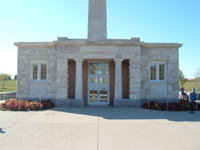 NPS PHOTO
Visiting the Washington Monument
The Washington Monument is open daily except July 4 and December 25.
Summer Hours: 9:00 a.m. to 10:00 p.m. (May 31 - September 6, 2010), with the last tour beginning before 9:45 p.m.
Rest of Year: 9:00 a.m. - 5:00 p.m., with the last tour beginning before 4:45 p.m.
---
Washington Monument admission is free, but does require a ticket.
The Washington Monument Lodge, located along 15th Street, opens at 8:30 a.m. for distribution of free, same day, timed tickets on a first come first serve basis. One person may pick up as many as six tickets as well as select their preferred ticket time from what remains available for that operating day. All individuals (including children) must have a ticket.
During peak season, tickets run out quickly and the line for tickets can form at 7:00 a.m. or earlier; please plan accordingly.
If you wish to reserve tickets, you may do so by visiting the National Park Service ticket website at http://www.recreation.gov, or by calling 1.877.444.6777 for individual tickets or 1.877.559.6777 for group reservations. There is a $1.50 service charge per ticket. These tickets may be picked up at the "will call" window of the Washington Monument Lodge on the day of your tour.
Please be aware that during peak season of April-September, tickets frequently are reserved months in advance.
---
Please note the following regulations with regard to visiting the Washington Monument:
No storage facility available
No Animals (except certified guide dogs)
No Suitcases or Large Backpacks
No Guns or Knives
No Strollers
No Food or Drink
No Mace or Aerosol Cans
Please notify a park ranger if you have a medical condition and/or device (e.g. pregnancy, pacemaker, insulin pump, et cetera) that requires special attention at the security screening facility.
Transportation
Parking throughout the District of Columbia is restricted generally (see individual area signs for site specific closures/restrictions) from 12:00 A.M. to 6:00 A.M. to facilitate cleaning and maintenance.
Washington, D.C. is a very busy metropolitan area. Parking is at a premium throughout the entire city. It is highly recommended that you make use of the efficient public transit system (Metro rail and Metro bus). Information and schedules for Metro can be found at www.wmata.com. Private paid parking garages and lots can be found downtown north of the National Mall. Free on street parking is generally restricted to two hours (ticketing/towing enforced). Limited free day long parking is available along Ohio Drive, SW which is along the Potomac River south of the Lincoln Memorial or in Lots A, B & C south of the Thomas Jefferson Memorial.