Island Trail Partial Closures

Sections of the Island Trail are undergoing needed repairs creating partial closures. Please call ahead 928-526-3367 for the latest conditions.
Where To Eat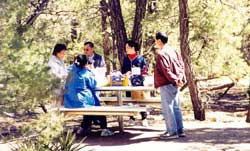 NPS photo by Dallas Larsen
There is no food service in the monument, but you can enjoy a picnic area near the Visitor Center.
Gas stoves are permitted, but no open fires.
Water is available at the visitor center.


Did You Know?

Animal-shaped figurines made from split twigs have been found near Walnut Canyon National Monument and at other places in the southwest. They indicate the presence of early human inhabitants 4000 or more years ago.