Island Trail Loop Partially Closed

5/13/2013: The north facing side of the Island Trail loop will be closed for trail construction Monday - Thursday. The entire trail will be reopened on Fridays, Saturdays, and Sundays. Please call 928-526-3367 for more information. More »
Where To Eat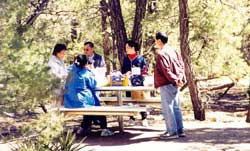 NPS photo by Dallas Larsen
There is no food service in the monument, but you can enjoy a picnic area near the Visitor Center.
Gas stoves are permitted, but no open fires.
Water is available at the visitor center.


Did You Know?

By 1915, travel to Walnut Canyon was relatively easy and inexpensive. Visitors could hire a buggy for $2 to $3, or an automobile tour for $4 to $6.