Where To Eat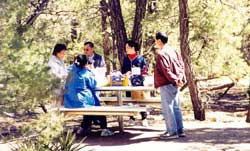 NPS photo by Dallas Larsen
There is no food service in the monument, but you can enjoy a picnic area near the Visitor Center.
Gas stoves are permitted, but no open fires.
Water is available at the visitor center.


Did You Know?

Original proposals in 1915 called for establishment of a Cliffs National Monument at Walnut Canyon. The name was changed to Walnut Canyon National Monument to avoid confusion with a nearby railroad siding, mill town, and post office called Cliffs.