Island Trail Partial Closures

Sections of the Island Trail are undergoing needed repairs creating partial closures. Please call ahead 928-526-3367 for the latest conditions.
Weather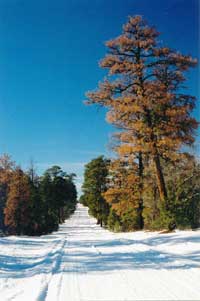 NPS photo by Dallas Larsen
Not all of Arizona is warm dry desert. Weather can vary widely, especially with elevation.
At Walnut Canyon (6690'/2039m above sea level), be prepared for snow in winter, hot sun in summer with afternoon thunderstorms, and, especially in spring, strong gusty winds on the rim and/or in the canyon. Best advice - dress in layers, because the weather can change quickly at any time of year.
Click here for the
current Flagstaff weather forecast.


Did You Know?

Walnut Canyon has been protected since 1904, first as part of the San Francisco Mountain Reserve (later Coconino National Forest). Early caretakers lived in a log cabin on the canyon rim. Walnut Canyon National Monument was established in 1915, one year before the National Park Service.