Island Trail Loop Partially Closed

5/13/2013: The north facing side of the Island Trail loop will be closed for trail construction Monday - Thursday. The entire trail will be reopened on Fridays, Saturdays, and Sundays. Please call 928-526-3367 for more information. More »
Weather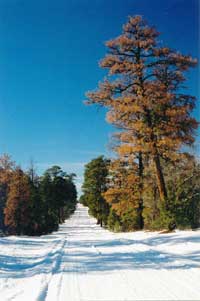 NPS photo by Dallas Larsen
Not all of Arizona is warm dry desert. Weather can vary widely, especially with elevation.
At Walnut Canyon (6690'/2039m above sea level), be prepared for snow in winter, hot sun in summer with afternoon thunderstorms, and, especially in spring, strong gusty winds on the rim and/or in the canyon. Best advice - dress in layers, because the weather can change quickly at any time of year.
Click here for the
current Flagstaff weather forecast.


Did You Know?

In 1915 a spur road to what is now Walnut Canyon National Monument was designated part of the National Old Trails Highway, also known as the Ocean-to-Ocean Highway, which stretched for 3,095 miles across the US. Walnut Canyon became a short detour from this major transcontinental route.