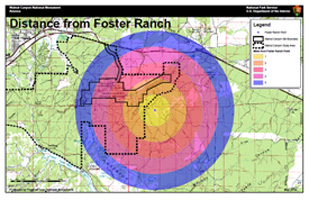 NPS
Loading the player...

Walnut Canyon Shotgun Model

Animation shows noise resulting from a single shot from a shotgun. Noise is assumed to be present continuously, with orientation of the gun rotating as seen by black bar at the center. Noise source data was taken from an example in the International Standards Organization for firing range noise.

Duration:

37 seconds

Credit / Author:

Kurt Fristrup, Senior Scientist, Natural Sounds and Night Skies Division, NPS and Charlotte Formichella, Research Associate, Colorado State University Produced by the Noise Model Simulation (NMSim) program developed by Wyle Laboratories Arlington, VA
Test Shots Recorded at Walnut Canyon

The following was recorded at Walnut Canyon during testing of shots being fired at Foster Ranch, August 2010

Duration:

58 seconds

Credit / Author:

NPS

Download Original File:

 

NPS/USFS Joint Study, 2010
Learn more about the U.S. Forest Service (USFS) and the National Park Service (NPS) joint special study to explore management options for an area of land surrounding Walnut Canyon National Monument, primarily administered by the Coconino National Forest.

 

General Management Plan

This plan signed in 2007, will guide park management for approximately 10-15 years. (pdf, 8650 KB)

 


Parks Look for Public Input
You can keep up with the Flagstaff Area National Monuments (Sunset Crater Volcano, Walnut Canyon, and Wupatki) by checking out our projects at the PEPC website, the doorway to Planning, Environment and Public Comment.

PEPC is an online collaborative tool that provides you with unprecedented, easy access to documents used in developing and tracking projects within the National Park Service. It also allows you to tell us what you think about the various projects planned for the Flagstaff Area National Monuments, or other parks nationwide.