Bookstore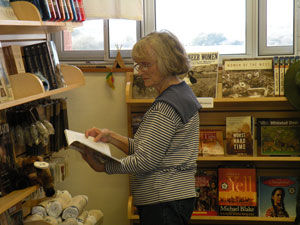 NPS Photo
The Visitor Center book store has a variety of literature which includes biographies, military & general history, native culture, children's stories, parks & nature, fiction, and activity books. The store also carries t-shirts, stuffed animals, posters, magnets, incense, buffalo items, and other popular souvenirs.
The store does not sell the National Park passes, however, NPS passport books and stamps series are available. The Washita and Great Plains Trails for Western Oklahoma cancellation stamps are available to visitors at the Visitor Center.
The Western National Parks Association offers several discount days throughout the year including Veteran's Day weekend, National Parks Week, and National Public Lands Day. Discounts to educators, WNPA members, and NPS cooperating associations are available.
All books and products have been reviewed and approved by park staff to assure quality and variety.
Did You Know?

Washita Battlefield Visitor Center is also home to Black Kettle National Grasslands. Black Kettle National Grasslands, a unit of the U.S. Forest Service, works along side the National Park Service to help maintain and care for Washita Battlefield National Historic Site.