Red Flag Fire Warning

There is a Red Flag fire warning currently in effect until further notice for western Oklahoma.
Directions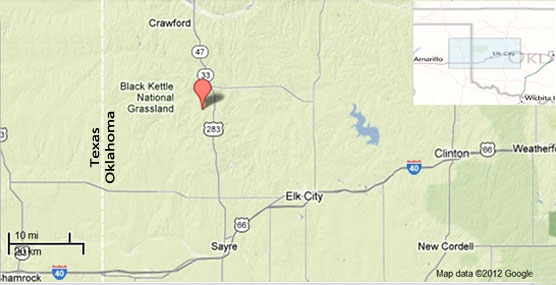 WHERE IN THE WORLD IS WASHITA BATTLEFIELD NHS?
The historic site is located near the town of Cheyenne, which is situated in western Oklahoma halfway between Amarillo, TX and Oklahoma City, OK. Cheyenne is approximately 30 miles north of I-40 on Hwy 283 and approximately 20 miles east of the Texas border.

Plane

Nearest major airports are Will Rogers International Airport in Oklahoma City about 145 miles east. To the west is the Rick Husband International Airport in Amarillo, about 130 miles distant. A small airport, for private and small planes, is located just west of Cheyenne, OK, near the engagement site.

Car

From I-40 take exit 20 (Sayre) and travel north on US-283 to Cheyenne. In Cheyenne take US-283 north until it intersects with Hwy 47. At the US-283 and Hwy 47 intersection travel west through scenic downtown Cheyenne. Once out of town continue west half a mile and turn north on Hwy 47A. Continuing on Hwy 47A will take you to the new visitor center. By taking 47A a little farther you will find the historic site, featuring the park overlook and interpretive walking trail.
Public Transportation

Not Available
GPS Coordinates

+35° 36' 59.76", -99° 41' 11.58"


Did You Know?

As a teenager, Magpie survived the 1868 attack on the Washita River, and lived to fight Lt. Col. George Armstrong Custer once again at the Battle of Little Big Horn.