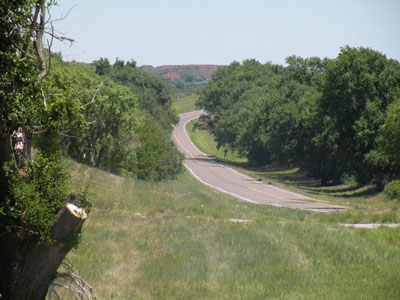 NPS Photo
Oklahoma State Highway 47A / Black Kettle Memorial Highway

To go to Washita Battlefield National Historic Site, one must drive on a roadway that has figured prominently in the development of western Oklahoma for over 75 years--Oklahoma State Highway 47 (SH-47).
Over the years, SH-47 has seen several notable periods of expansion. On June 19, 1939, the highway was extended form U.S. Highway 183 (US-183) south of Putnam, OK, westward to Leedey, OK. On June 20, 1940 it was extended even further west to Roll, OK, where it intersected with U.S. Highway 283 (US-283). On May 31, 1944, another expansion took the roadway eastward via US-183 to Thomas, OK.
The final lengthening of this highway took place on October 1, 1945, when it intersected with US-283 in Cheyenne, Oklahoma. From Cheyenne, SH-47 today travels westward to the Oklahoma/Texas line.
More changes were still to come for SH-47 but a notable one took place on September 7, 1965. On this date, SH-47A which directs travelers to Washita Battlefield National Historic Site's visitor center. In 1998, it was designated the "Black Kettle Memorial Highway."