Holiday Closures

All park sites closed on Thanksgiving (November 28), Christmas (December 25), and New Year's Day (January 1).
Directions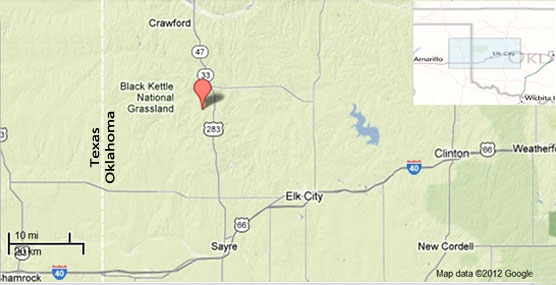 WHERE IN THE WORLD IS WASHITA BATTLEFIELD NHS?
The historic site is located near the town of Cheyenne, which is situated in western Oklahoma halfway between Amarillo, TX and Oklahoma City, OK. Cheyenne is approximately 30 miles north of I-40 on Hwy 283 and approximately 20 miles east of the Texas border.

Plane

Nearest major airports are Will Rogers International in Oklahoma City about 145 miles east. To the west is the Amarillo Airport, about 130 miles distant. A small airport, for private and small planes, is located just west of Cheyenne, OK, near the engagement site.

Car

From I-40 take exit 20 (Sayre) and travel north on US-283 to Cheyenne. In Cheyenne take US-283 north until it intersects with Hwy 47. At the US-283 and Hwy 47 intersection travel west through scenic downtown Cheyenne. Once out of town continue west half a mile and turn north on Hwy 47A. Continuing on Hwy 47A will take you to the new visitor center. By taking 47A a little farther you will find the historic site, featuring the park overlook and interpretive walking trail.
Public Transportation

Not Available
GPS Coordinates

+35° 36' 59.76", -99° 41' 11.58"


Did You Know?

Captain Louis Hamilton was the first casualty during the attack on the Washita. Captain Hamilton was grandson of Alexander Hamilton, the first Secretary of the Treasury of the United States.