Washita Battlefield National Historic Site, though small in acreage, is ecologically very diverse. Located within its borders one can find upland mixed-grass prairie, wooded "benches" rising above grassy historic floodplains, a biologically significant riparian corridor, and dramatic outcroppings of pink gypsum. The views immediately north of the park is even more dramatic, being comprised of deep red shale outcroppings set against the western Oklahoma sky. The perennially flowing Washita River winding through the quiet grasslands of the now peaceful battlefield makes the park a haven for wild creatures.
While not known as a "natural park", it is the natural resources one notices at Washita Battlefield. It is these resources that set the scene and provide the backdrop for the tragic story of what occurred on this sacred ground. Perhaps the resilience of these natural resources are in part a testimonial to the resilience of Native cultures and the human spirit, which are so linked to the land that is Washita.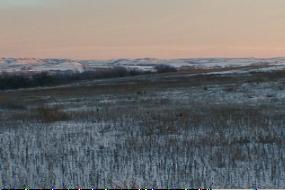 Washita Battlefield NHS is in the process of compiling baseline inventories for the vertebrate animals and the aquatic macroinvertebrates found at the site. The goal is to document at least 90% of all the species in each category. Some of the inventories are complete (like the mammals, reptiles, and amphibians), one is nearly complete (the birds), and one (the fish/macroinvertebrates) is underway.