Be Weather Aware

Be weather aware. Weather conditions change rapidly in northwestern Oklahoma. For Oklahoma road conditions, especially Highway 283 North from Sayre to Arnett, call 1-888-425-2385 for current road conditions.
Welcome Teachers!
Washita Battlefield offers many opportunities for teachers to incorporate our history and culture in the classroom!
Lesson plans are available under Curriculum Materials.
Teachers, bring students out for a field-trip at Washita.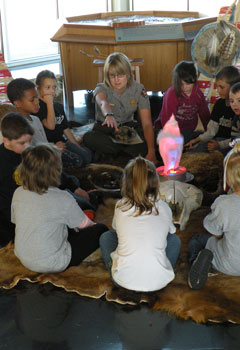 Features
Washita Hosts Military Staff Rides

Officers from Ft. Leavenworth, Ft. Hood, and Ft. Sill bring soldiers to Washita to analyze tactics used during the battle.

Read More

Teacher-Ranger-Teacher

Your summer is spent learning about park resources. In the fall share your experiences with your students.

Read More

Teacher Workshop

A Window on our World, Washita's teacher workshop, is held annually for educators to spend a day learning about Cheyenne culture.

Read More