Voyageurs is a water-based park. Learning how to navigate the lake properly helps to have a great trip. Knowing common lake buoys and markers will instantly help your boating experience.
A safe trip is a happy trip! Learn about some preventative measures you can take to ensure your boating safety.
A variety of wildlife call Voyageurs National Park home. While you are visiting, please remember that your food is for you only. Please use proper food storage techniques and help keep our wildlife wild and safe.
Invasive Species Alert
We need your help to prevent the spread of exotic plants and aquatic invasive species. You man also read our Exotic brochures.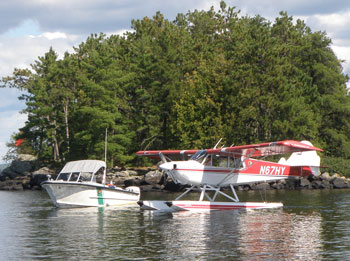 NPS
The National Park Service is responsible for the promotion and regulation of use within the areas of its jurisdiction, like Voyageurs. Know before you go. Some activities require a permit. We are here to help and educate, as well as protect the park.
The weather can change rapidly and severely at anytime of year. Plan your trip and check the immediate weather forecast a few days before you come. We've provided some basic weather information to get you started, temperature ranges and typical ice out dates.
Thinking of drinking lake water?
Always treat lake water before using it for drinking or cooking. Consider bringing water with you when camping in the park. Otherwise, use a high-quality water filter to remove potential contaminants.
Blue-Green Algae
The Minnesota Pollution Control Agency (MPCA) advises the public to approach lake areas with blue-green algae blooms with caution. During the right conditions these blooms can be toxic to pets and harmful to people. A blue-green algae bloom looks like pea soup should be avoided. For detailed information visit the MPCA website.