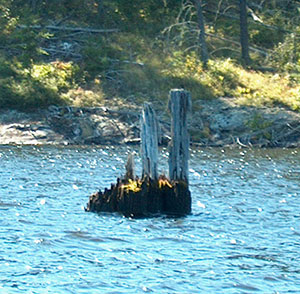 Water Hazards
Some remnants of the park's history can still be seen today in the lakes and can be considered water hazards.
Pilings from old railroad tracks can be found in bays such as Hoist Bay on Namakan Lake. Use caution when entering bays because some pilings are located just below the water surface depending on the current lake levels.
Dead heads, a partially submerged log or trunk, can be found anywhere in the park and can cause damage to boats and motors. Always be scanning the water for any hazards infront or around you.