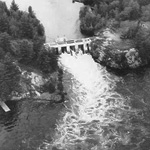 Not a Sneeze on the Border!
Many centuries ago, Kettle Falls was a main artery of the travel route along the wilderness border region. Native peoples gathered, hunted, and speared sturgeon at the falls, voyageurs paddled and portaged through the area carrying their goods and furs, and prospectors traveled to the picturesque stopping place on their way to the Rainy Lake gold mines.

Around the time construction of the dams at Kettle Falls began in 1910, the Kettle Falls Hotel was built. The stonecutters and masons who built the dams were early patrons of the hotel, followed by lumberjacks, commercial fisherman, trappers, and traders. When the logging era came to an end and commercial fishing declined, tourism became the major industry and sports fishermen and families came to Kettle Falls.

In advertisements from the 1930s, the Kettle Falls Hotel was a "Hay Fever Victims Sanctuary" where sufferers found relief due to the purity of sun-washed pine scented air and there was "not a sneeze on the border". Located on the Minnesota - Canadian boundary at the eastern edge of the Kabetogama Peninsula, the historic hotel is still a destination of fishing enthusiasts and families and the air is still pine scented and pure.