High Water Alert

Due to excessive amounts of rain fall, lake levels within the park have been rising. Caution! This has placed all park docks and some launch ramps underwater making for hazardous conditions. Some reservable sites have been closed until further notice. More »
Kettle Falls Area Programs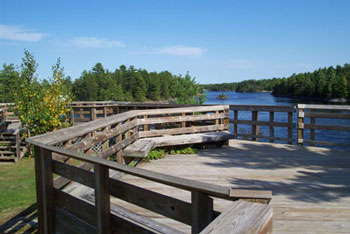 Walk
Kettle Falls Dam Tour

June 15 - August 22
Sunday, Tuesday, Thursday-Friday
1:10 pm - 1:40 pm

August 25,27, September 3 - 24
Monday, Wednesday
1:10 pm - 1:40 pm

Meet out front of the Kettle Falls Hotel. A ranger will guide you through the history of the area and walk to the dam overlook (1/4 mile walk, not accessible). In order to participate, visitors must take the Kettle Falls Cruise or must take their own watercraft to the Kettle Falls area. For more information, call the visitor center at (218) 875-2111. Free
Extra! Extra! Read all about it!
Download the Kettle Falls Gazette & Menu before you venture out to the "Jewel of the Forest" and read interesting stories and fun facts about the Kettle Falls Hotel and area.
Did You Know?
Voyageurs National Park experienced a large, lightning-ignited fire on the Kabetogama Peninsula in 2004. This young eagle survived the fire and returned to its former nesting tree in time for park researchers to take this photo!