Kettle Falls Area Programs
The Kettle Falls area programs are complete for the 2015 season, please check back in the spring for the 2016 summer schedule.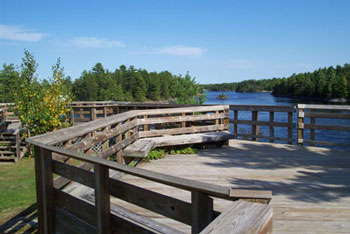 Walk
Kettle Falls Dam Tour
Meet out front of the Kettle Falls Hotel. A ranger will guide you through the history of the area and walk to the dam overlook (1/4 mile walk, not accessible). In order to participate, visitors must take the Kettle Falls Cruise or must take their own watercraft to the Kettle Falls area. For more information, call the visitor center at (218) 875-2111. Free
Extra! Extra! Read all about it!
Download the Kettle Falls Gazette & Menu before you venture out to the "Jewel of the Forest" and read interesting stories and fun facts about the Kettle Falls Hotel and area.