Overnight Tent Camping Permits Required

See Fees & Reservations for more information. More »
Directions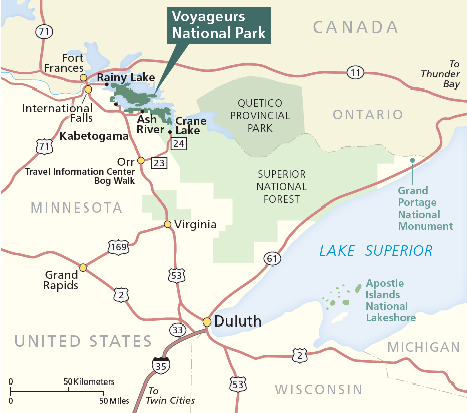 Traveling to the Park
Voyageurs National Park is located in Northern Minnesota. The park shares its northern boundary with Canada and lies just west of the Boundary Water Canoe Area Wilderness. The park visitor centers are accessible by car but in order to truely experience the park, one must leave their vehicle behind and access the park by boat.
Vehicle
Voyageurs National Park is approximately 5 hours north of Minneapolis-St. Paul on I-35 and Hwy 53, 3 hours north of Duluth on Hwy 53, and 4 hours south from Winnipeg, Manitoba. For visitor center locations,
click here
.
Plane

Falls International Airport is located in International Falls, Minnesota. Taxi service and rental cars are available here. Most flights entering the area will pass through the larger Minneapolis-St. Paul airport located around 5 hours south of Voyageurs National Park.
Public Transportation
There is no public transportation to Voyageurs National Park. No bus lines or passenger trains serve this area.
Boat Launch Ramps
Public launch ramps available at the three park visitor centers located at Rainy Lake, Kabetogama Lake, and the Ash River Visitor Center. Numerous resorts offer boat access into the park.



Did You Know?

You can make a voyageur trinket, stamp a track or try on voyageurs clothing at a children's corner in a park visitor center.