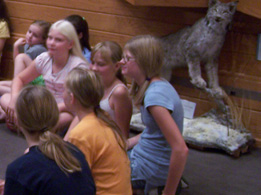 Welcome to Environmental Education at Voyageurs National Park
Linking the preservation of Voyageurs to the conservation of your backyard and community.
We invite your school, you, and your students to participate in the park's environmental education program. If you would like to discuss the program more in-depth contact the Interpretation Division at 218-286-5258.

Teacher Information
Voyageurs National Park offers environmental education programs, pre-school through sixth grade, at the park and in the classroom.

Environmental Program Available January through May

Class size limited to 30 students at a time.
Individual classes only - no assemblies.
A ratio of 8:1 child to chaperone is requested.
Environmental Program Available in September

Individual classes or assemblies are welcome. We will take up to four classrooms at a time.
Class size is limited to 30 students.
A ratio of 5:1 child to chaperone is requested.
Education Program Prospectus
National parks provide outstanding outdoor classrooms that support and enhance your learning objectives in the classroom. The Environmental Education Interpreter at Voyageurs National Park conducts curriculum-based education programs that use this pristine landscape as a teaching tool for a variety of disciplines.
These programs encourage students to explore, experience, and engage in the learning process. Programs take place at the Rainy Lake Visitor Center within Voyageurs National Park. All programs are aligned with Minnesota State Science Standards.
For a complete listing of programs available, download the
Environmental Education Prospectus (PDF).