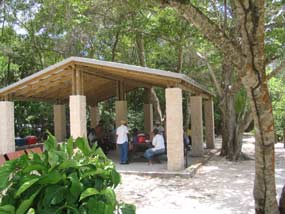 Hawksnest
A Special Use Permit
[$25.00]
is required at Hawksnest for organized activities that include ten or more people [events such as birthday parties, etc.] A permit is required for weddings and other special events regardless of the number of people participating [note that there is a limit of 50 people for any permitted activity at Hawksnest].
In addition to the Special Use Permit, there is a Cost Recovery Deposit of $100.00. The fee is refundable after grounds inspection and removal of trash when the event has ended.
All fees are payable by check or money order to the Virgin Islands National Park. Separate checks are required for the Special Use Permit and the Cost Recovery Deposit.
Picnic pavilions and grills are available for all activities.