Visitor Center
The Park's Visitor Center in Cruz Bay offers an exhibit depicting both natural and cultural resources. One may learn about the terrestrial as well as submerged lands. Examples of reef fishes and coral are on display. Other panels depict the cultural history – from the earliest inhabitants to the subsistence era. Visitors are able to view artifacts from the pre-Columbian Tainos, tools used to harvest sugarcane during the late 1700's and early 1800's sugar production era, and examples of objects that became essential for survival after slavery emancipation.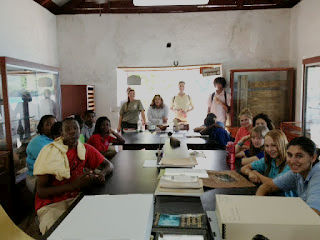 Cinnamon Bay Heritage Center and Archeology Lab
Once in Cinnamon Bay, visitors may visit the recently renovated Archeology Museum & Lab (a converted sugar factory warehouse) now home to the new Cinnamon Bay Heritage Center and Archeology Lab. Designed for local students to learn and explore their heritage, researchers and interns also utilize the space as a working laboratory.