Mosquito Borne Disease

There are two mosquito transmitted diseases (virus), Dengue, and Chikungunya Fever, now in the Caribbean. Both viruses are transmitted by Aedes species mosquitoes, which have black and white stripes markings. Please take a look at link information. More »
Boater Information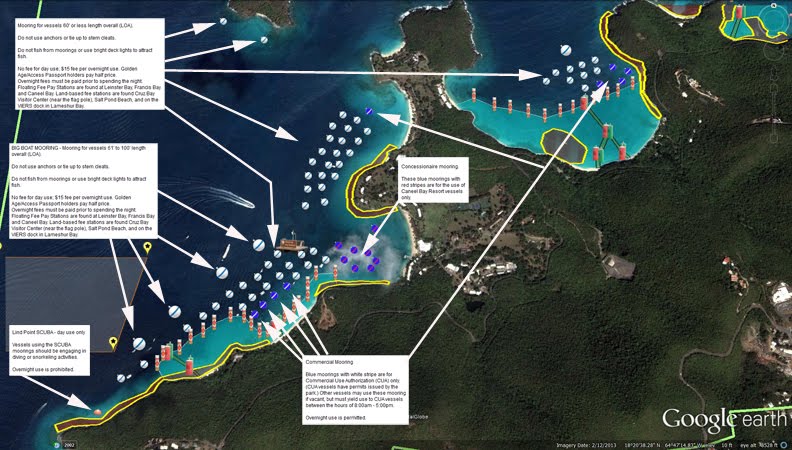 irgin Islands National Park includes much of the water and sea floor surrounding St. John. If you are visiting by boat or operating a vessel in National Park waters, please familiarize yourself with the policies and regulations about these marine resources.
Virgin Islands National Park Marine Map.KMZ (version April 29, 2014) is a downloadable file (359 kb KMZ file) that when opened in Google Earth will show the location and information for:
1) Visitor Center Area
2) Where is the best snorkeling?
3) Where can I anchor a boat?
4) Where can I access the beach in a small boat?
5) Places to avoid when boating.
6) NPS Fee Pay Stations.
7) All mooring information (what the different sizes and colors mean)
8) Boundary lines for Virgin Islands National Park and Virgin Islands Coral Reef National Monument.
You may want to download the Google Earth program to view this file.
Do you have questions on how to use the KMZ file once you download it?
Click this link to download &/or view a short movie on how to use this map file in Google Earth.
References to non-U.S. Department of the Interior (DOI) products do not constitute endorsement by the DOI. By viewing Google Maps on this page the user agrees to these terms set forth by Google.
Map Disclaimer:
The features of this map were exported to Google Earth by the National Park Service. For information, planning, reference and illustration purposes for Virgin Islands National Park and Virgin Islands Coral Reef National Monument only. The location of marine features is based on the most current park knowledge, which may outdate the underlying imagery. These materials are not verified by a Registered Professional Land Surveyor and are not intended to be used as such. The NPS makes no warranty, express or implied, related to the accuracy or content of this map.
The Mooring Guide provides information about how and where you may operate and moor vessels in Virgin Islands National Park. (pdf 365 kb)
Anchoring Information A map and coordinates of areas appropriate to vessels of various sizes. (jpg 950 mb)
Superintendent's Compendium contains laws and policies specific to Virgin Islands National Park. (pdf 260 kb)
Fisher's Guide from the VI Department of Planning and Natural Resources contains information about fishing in the Virgin Islands.
Hurricane Mooring Permits This news article contains general information and points of contact for 2010 Hurricane Hole storm mooring permits.
Did You Know?

This unusual-looking tree found in dry forest areas has a reddish, peeling bark. The leaves and sap smell like turpentine and have many medicinal properties, but it is the peeling bark that gives the tree its nickname – "Tourist Tree".