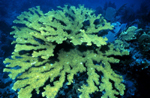 NOAA's Florida Keys NMS
GUESSING GAME
Have you ever heard of the guessing game "Animal, Vegetable, Mineral" or sometimes called "20 Questions?" It's fun, and doesn't need any equipment; just your creativity.
The game starts by one person being the starter. He (or she!) thinks of some thing, like "dog," but keeps the thing secret. Now it's the job of the other people to take turns asking questions to the starter person that he can answer by saying only "yes" or "no" to the question. The first person to ask a question usually starts with, "Is the word you're thinking about an animal, a vegetable or a mineral?"-- meaning: is the word an animal, a plant or is it non-living, like a rock? After that, other people take turns asking questions to narrow down what the thing could be. The first person to guess the thing correctly in 20 questions or less wins!
The picture shows living elkhorn coral. Soooooooo, what's a coral?