School Field Trip Programs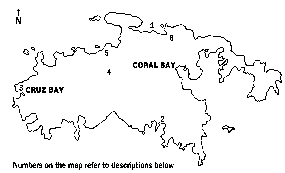 NPS
Virgin Islands National Park school field trips offer opportunities for students to explore the rich cultural and natural resources of the Virgin Islands.
---
Standard Programs -- The programs listed here are the most often requested. We would also be happy to accommodate a special request you may have. For example: we'd be happy to arrange for a program that would fit content benchmarks & standards. Please note: program lengths do not include transportation to and from the site. Numbers on the map refer to descriptions below.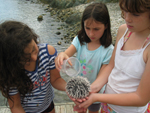 NPS
(1, 2) MANGROVE & SEASHORE WALK
Locations: Leinster Bay (1) or Lameshur Bay (2)
Round-trip time: 1.5 hours
Description: Students will explore our coastal habitats: the rocky seashore, mangroves, seagrass beds and coral reefs. Through the walk, by hands-on discovery, they will learn about the many plants and animals that live in these important ecosystems. Intricate relationships that exist between the different habitats will be discussed. Students need to wear shoes suitable for walking in the water. Hats, sunscreen and water to drink are also suggested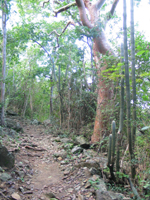 NPS
(3) DRY TROPICAL FOREST HIKE
Location: Lind Point
Round-trip time: 3 hours
Description: This hike starts behind the Cruz Bay Visitor Center. It passes through the dry forest environment where students will see a variety of plants and animals, including insects. There is also an overlook of Cruz Bay and St. Thomas on the trail, which eventually ends at Honeymoon beach. Wear walking shoes and bring plenty of water.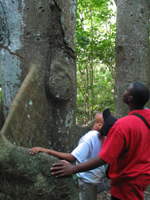 NPS
(4) REEF BAY HIKE
Location: Reef Bay TraiL
Round-trip time: 4 hours
Description: This hike takes students down a 3-mile trail into the Reef Bay Valley, where the oldest, biggest trees on the island are found. Learn about the plants and animals of this moist tropical forest and the people who used them. Reef Bay has remains from Danish sugar plantations and Taino rock carvings. Students need to wear good hiking shoes and bring lunch and drinks. This activity involves taxi and boat transportation. Contact the Park for the current cost of this field trip, and to ask about Friends of the National Park support to cover the cost.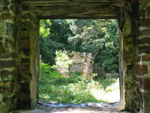 NPS
(5) CINNAMON BAY WALK
Location: Cinnamon Bay Nature Loop
Round-trip time: 1 hour
Description: Beginning and ending at Danish sugar plantation ruins, this half-mile loop passes through a moist tropical forest dominated by bay rum trees. The class may choose to stay for a picnic and a swim in this area after the activity.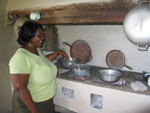 NPS
(6) ANNABERG RUINS TOUR
Location: Annaberg Sugar Factory
Round-trip time: 2 hours
Description: Travel back in time to the most extensive Danish sugar factory on St. John. The ruins include a windmill, horsemill, boiling house, garden and enslaved laborers' cabins. On certain days cultural demonstrators are at the site. This area is part of a Fee Demonstration program. Please request a fee waiver for any educational program.
---
Special Programs -- Many seasonal programs also occur in the Park throughout the year that may be of interest to teachers. Below is a list of these special programs.
Folklife Festival
Held every year during the month of February to celebrate Black History month. This 3-day festival occurs at Annaberg Plantation. The events include crafts, music, cooking, storytelling, and other cultural demonstrations.
Earth Day
During the month of April the Park coordinates some special activities to celebrate Earth Day. In the past, recycling contests, special hikes and games have been a part of this celebration.
Bird Watching
The Park conducts bird watching hikes during the fall and winter. Students can find migratory birds with the help of a Park ranger and then report their sightings on the Internet to a national sister shorebird program sponsored the U.S. Fish & Wildlife service.
Coast Weeks
Participate in a world-wide effort on your island to clean up our beaches and coast. Students adopt a beach, collect the trash they find and enter the information about the trash on data cards. This even occurs during the months of September and October.
Archaeology
When archaeology projects are occurring in the Park, students can schedule a trip to visit the site and actually work as an archaeologist for the day. Call to find out about possible projects that may be scheduled.
Evening Programs
For groups staying at the Cinnamon Bay Campground, evening slide shows can be arranged. Special topics may be requested. If the clouds stay away, there's very little light pollution, so our dark skies are beautiful!
School Field Trip Programs