Hiking and Walking Trails
The Vicksburg Trails Commission and Vicksburg National Military Park offer Scout groups and interested hikers the opportunity to explore the park's resources using three different hiking trails. Two hikes, the
7-mile Trek
and
14-mile Trail
, follow the park's paved tour road, and include the
Surrender Interview Site
,
Great Redoubt
,
2d Texas Lunette
,
Railroad Redoubt
,
Stockade Redan
,
National Cemetery
, and
USS Cairo Gunboat
exhibit and museum.
The
Al Scheller Hiking Trail
follows a more physically demanding route through the interior sections of the park, and gives the hiker an excellent perception of the obstacles and difficult terrain faced by the soldiers during the siege of Vicksburg.
Please Note:
When using the hiking trails located in Vicksburg National Military Park -

- Any activities not authorized by park staff is strictly prohibited. This includes trail marking and maintenance.

- All groups and or individuals wishing to perform trail maintenance, including re-blazing of trees, MUST contact the park and coordinate their activities with staff to ensure adherence to park policies and regulations.

NPS Photos
The Al Scheller Primitive Hiking trail was originally established in 1979-1980, for the purpose of training Boy Scouts in the use of compasses and orienteering methods, while also learning the history of the park and its terrain as they trekked through the woods. Although segments of the trail have always remained accessible to hikers, its condition over the years steadily worsened to a point of virtual impassibility in many areas. Now, with the help of AmeriCorps, VNMP is again able to provide complete access to those wishing to experience the unique landscape of the park by hiking its high ridgetops , stream courses, and steep ravines. Even though maintenance of this hiking trail is under the supervision of park staff, the labor is performed entirely through volunteer efforts, and the park hopes to continue these successful partnerships to maintain this significant resource.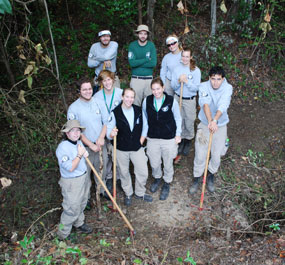 NPS Photo
Through the dedicated work of the AmeriCorps 'Delta 5' team in 2009, Vicksburg National Military Park announced the completion of an extensive re-clearing and upgrading project on the Al Scheller Primitive Hiking trail. On October 2, 2009, the team finished a four-week effort that included brush clearing and trail widening, improving drainage patterns and stream crossings, tree blazing to mark the route, painting trail markers at entry points, and exposing park monuments and markers along the trail.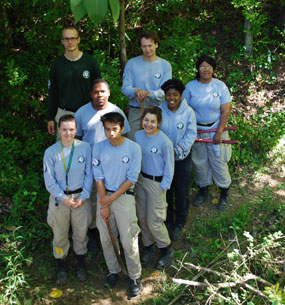 NPS Photo
After over 4 years of inclement weather, including tornadic winds and heavy rains, the trail has again been extensively cleared and marked by the AmeriCorps 'Delta 1' team, completing the work in April 2014. This effort allows Vicksburg National Military Park to maintain public access to this challenging trek through its terrain and history.