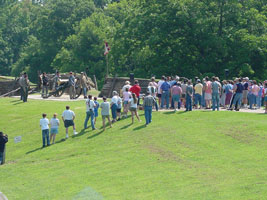 NPS Photo
Enjoying America's Best Idea - the national parks - gets even better - because it's free!

The National Park Service is inviting you to come by for a visit, to relax, to learn a little bit about this great nation…and to just have some fun. And you can't beat America's 392 national parks for family time, fresh air, and opportunities to learn about our great country!

National parks are places for everyone to have fun, reconnect with nature and history, and build a sense of ownership and stewardship toward parks and the environment. Fee-free* days will be held in Vicksburg National Military Park on: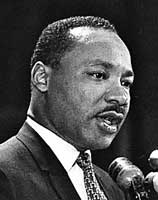 Martin Luther King, Jr. Birthday - January 14-16, 2012
- Martin Luther King, Jr. Day commemorates the January 15 birthday of Rev. Dr. Martin Luther King, Jr., and is observed on the third Monday of January each year. As a leader for nonviolent activism in the civil rights movement, Dr. King successfully protested racial discrimination in Federal and state law until his untimely death by an assassin's bullet in 1968. The campaign for a Federal holiday in King's honor began soon after his assassination, with Ronald Reagan signing the holiday into law in 1983, and it's first observance in 1986. The holiday was officially recognized in all 50 states for the first time in 2000. This year marks the 25th anniversary of the holiday's observance.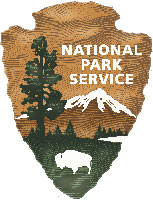 National Park Week - April 21-29, 2012
- National Park Week is a presidentially proclaimed celebration in recognition of America's National Parks, celebrating what we all have inherited as Americans - 84 million acres of the world's most spectacular scenery, historic landmarks and cultural treasures. Activities highlight youth programs and initiatives offered by the National Park Service to encourage the future protection and preservation of our American legacy and promote good stewardship of the land. In addition, the Junior Ranger program encourages America's youth to explore, protect, and learn about our National Parks.
Get Outdoors Day - June 9, 2012
National Get Outdoors Day is a new annual event to encourage healthy, active outdoor fun.

Participating partners will offer opportunities for American families to experience traditional and non-traditional types of outdoor activities.
For more information on National Get Outdoors Day, go to the National Get Outdoors Day web page.
Prime goals of the day are reaching first-time visitors to public lands and reconnecting our youth to the great outdoors.


September 29, 2012 - National Public Lands Day - National Public Lands Day is the nation's largest hands-on volunteer effort to improve America's public lands. NPLD began in 1994 with three federal agencies and 700 volunteers. Since then thousands have volunteered to lend a hand at over 2,000 locations across the nation. Several federal land management agencies, along with many state and local agencies, participate in this annual day of caring for shared lands.

For more information on National Public Lands Day, go to the NPLD web page.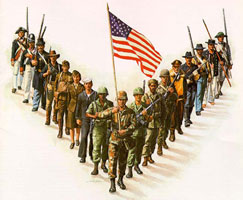 Veterans Day Weekend - November 10-12, 2012
- Veterans Day was originally known as Armistice Day, marking the anniversary of the ending of World War I at the eleventh hour, on the eleventh day, of the eleventh month in 1918.
Following World War II, the name of the holiday was changed (enacted June 1, 1954) to Veterans Day to honor those who died in all American wars. The day has since evolved to be a time of honoring veterans who have served in the military during wartime or peacetime. The United States traditionally observes Veterans Day on November 11.
Check
here
to find more national parks offering fee-free days!
Come enjoy the parks and Experience Your America!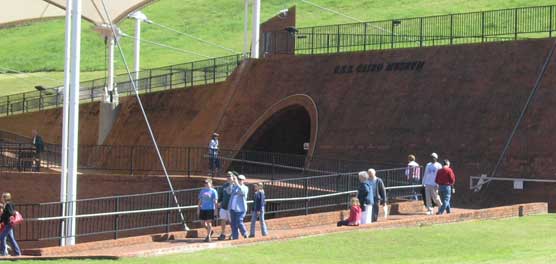 NPS Photo
*Fee waiver includes: entrance fees, commercial tour fees, and transportation entrance fees. Other fees such as reservation, camping, tours, concession and fees collected by third parties are not included unless stated otherwise.