America the Beautiful Vicksburg Quarter Release - August 30, 2011
On August 30, 2011, the U.S. Mint released the ninth coin in its America the Beautiful Quarters Program at Vicksburg National Military Park. The program, developed as a multi-year initiative to honor 56 national parks and other national sites, the District of Columbia, and five U.S. territories, will issue five new quarters every year from 2010 through 2020, with one final coin released in 2021. The program follows the very successful States and Territories Quarters Program which saw more than 147 million consumers collecting the coins. Quarters in the program will be released sequentially in the order in which the featured site was first established.

The sites selected and designs developed were done through a consultative process involving the governor or chief executive of each host jurisdiction, the U.S. Department of the Interior, U.S. Commission of Fine Arts, and Citizens Coinage Advisory Committee, with final approval by the Department of the Treasury.

The reverse image of the Vicksburg coin depicts the U.S.S. Cairo on the Yazoo River as it would have been seen when it served the U.S. Navy during the Civil War. Inscriptions are VICKSBURG, MISSISSIPPI, 2011 and E PLURIBUS UNUM. Design candidates were developed in consultation with representatives of Vicksburg National Military Park.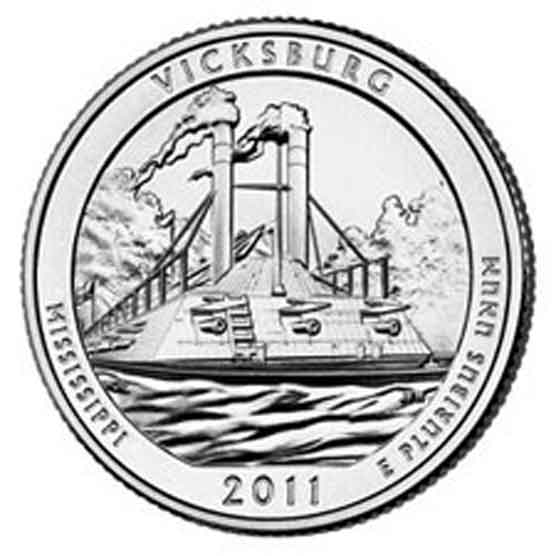 U.S. Mint
The ceremony to release the new quarter to the public was held under the bow of the historic U.S.S. Cairo gunboat and attended by more than 2,500, including 2,000 students from the local Vicksburg-Warren County school district.

Check the U.S. Mint website to learn more about the America the Beautiful Quarters Program.