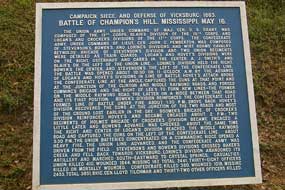 NPS Photo
METAL DRIVE OF WORLD WAR II

In 1942, the United States was deeply involved in World War II. The demand for natural resources, metal, and raw materials was at an all-time high, and the National Park Service and Vicksburg National Military Park were called upon to assist in the war effort. Government officials identified and removed nearly 145 of the largest and heaviest cast iron tablets and markers (such as the one shown here), which were then melted down and used in the construction of military supplies and equipment.
Park officials could only hope that when the war came to an end, funding would be available to replace the tablets and markers. Unfortunately, the costs of replacing the tablets has soared, and over the years, only a few tablets were replaced.
However, in 2007-2008, the establishment of the support group,
Friends of the Vicksburg National Military Park and Campaign
, initiated a new effort to replace these and other missing tablets and markers. With monument preservation and replacement a major focus of the Friends group, Vicksburg National Military Park, along with the Secretary of Interior and Director of the Park Service, were able to recognize and dedicate the replacement of 22 large tablets on October 30, 2008.