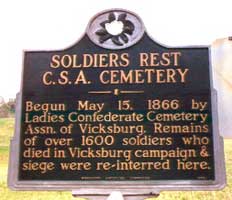 NPS Photo
The City of Vicksburg served as a major hospital center in the early years of the Civil War. A section in the Cedar Hill (Vicksburg City) Cemetery was set aside to provide a fitting burial place for Confederate soldiers who died of sickness or wounds. Known as "Soldiers' Rest," the plot in Cedar Hill Cemetery is the final resting place for an estimated 5,000 Confederate soldiers.
A local undertaker, Mr. J.Q. Arnold, was hired by the Confederate government to bury Southern soldiers, and carried out those duties throughout the siege of Vicksburg. Mr. Arnold meticulously maintained records of the soldiers he buried, assigning each one a grave number. Regrettably, his list and map of the cemetery disappeared after the siege, although a portion of his list was re-discovered in the early 1960s, giving the name, rank, company, unit, and date of death for 1,600 soldiers. Approximately 3,500 names are unknown. The document is now part of the archival records at the Old Courthouse Museum, 1008 Cherry Street, Vicksburg, MS 39180 (601-636-0741).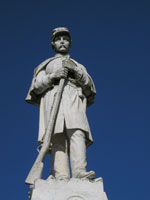 NPS Photo
Due to the disappearance of Mr. Arnold's records, only a few private headstones marked the plot until 1893. On April 26 of that year, the ladies of the Confederate Memorial Association dedicated a beautiful stone monument featuring the standing figure of a Confederate soldier. It was not until the early 1980s, following the discovery of the partial list, that headstones were erected through the combined effort of the United Daughters of the Confederacy (UDC) and the Veterans' Administration. The stones are arranged with military precision and placed in state groupings. In 1998, an additional 72 headstones were erected by the UDC and Sons of Confederate Veterans to honor soldiers whose identities were established on a second list which surfaced in the collection of the Old Court House Museum.
Additionally, Confederate dead from the Battle of Port Gibson are buried in the "Soldiers' Row" section of
Wintergreen Cemetery
, located in the town of Port Gibson.

NPS Photo