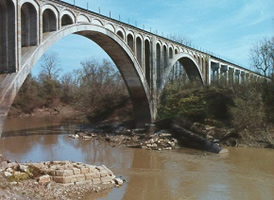 NPS Photo
Overwhelmed by the charge, Confederate soldiers threw down their rifle-muskets and ran toward the bridges across the river. In the panic and confusion of defeat, many Confederate soldiers attempted to swim across the river and drowned. Luckily, Pemberton's chief engineer, Major Samuel Lockett, set the bridges on fire, effectively cutting off pursuit by the victorious Union army. Badly shaken, the Confederates staggered back into the Vicksburg defenses and prepared to resist the Union onslaught.
Confederate losses at the Big Black River Bridge were not accurately reported, but 1,751 men, 18 cannon, and 5 battleflags were captured by the Federals. Union casualties totaled only 279 men, of whom 39 were killed, 237 wounded, and 3 missing. Grant's forces bridged the river at three locations and, flushed with victory, pushed hard toward Vicksburg on May 18.
The Civil War-era bridge which spanned the river at this site was set on fire by the Confederates to prevent pursuit by Grant's victorious army. The modern railroad bridge is pictured above.