2012 Reading Aloud Supplemental Stories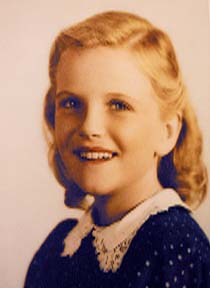 Pat Thompson
Ten-year-old Pat "Patsy" Campbell loved music. She loved listening to it, and she loved dancing to it. While growing up, she took ballet classes. She often taught herself routines by watching others. One of those dances was called the jitterbug.
In 1941, the jitterbug was all the rage. Young people loved dancing the jitterbug to live swing music. They went to dance halls and ball rooms and danced the night away.
Patsy was no exception. Her dad was in the Navy, and her family lived just outside of Pearl Harbor's main gate. She lived just down the road from Bloch Arena, which was the place to be on weekends. Friday nights were for boxing matches. Saturday nights were for The Battle of the Bands contests.
Saturday night, December 6, 1941, young Patsy was in attendance at Bloch Arena. She sat just in front of the band and tapped her feet to the music. That night there was a jitterbug contest. The emcee took notice of Pat and asked the crowd if someone would like to be this young girl's partner. A 17-year-old sailor named Jack Evans volunteered. They showed off their moves and ended up winning trophies as the jitterbug champs! That night, they left the contest without even knowing each other's names.
The next morning, December 7th, Oahu was under attack. Per her dad's suggestion, Pat went to her neighbor's house with her mom, brother, and dog Tinker. They watched in shock and disbelief from the house's second story as Pearl Harbor and Hickam Field were destroyed before their eyes.
After the war, life went on. Pat (now Thompson) grew up and married, and moved to the San Diego area to raise her family. Even though many years passed, she always wondered what happened to her jitterbug partner on that fateful day. She started submitting letters to veterans' newsletters to see if she could find out.
About a year later, the mystery was solved! Pat was shocked to hear a message on her answering machine saying, "If this is Pat Thompson, I'm the Sailor you're looking for."
It was Jack Evans! As it turns out, the two had lived only 15 miles from each other for 40 years. Jack had moved to the San Diego area too.
Since reuniting, the dance partners have recreated their jitterbug on a few special occasions. The most notable was then they both came back to Pearl Harbor for the 65th anniversary in 2006 to relive their memorable moment. While most stories of that fateful day focus on the devastation, the story of the jitterbug between ten-year-old Patsy, now 81, and 17-year-old Jack, now 88, is a bright spot in the darkness.
Pat's winning trophy is now on display at the Pearl Harbor Visitor Center.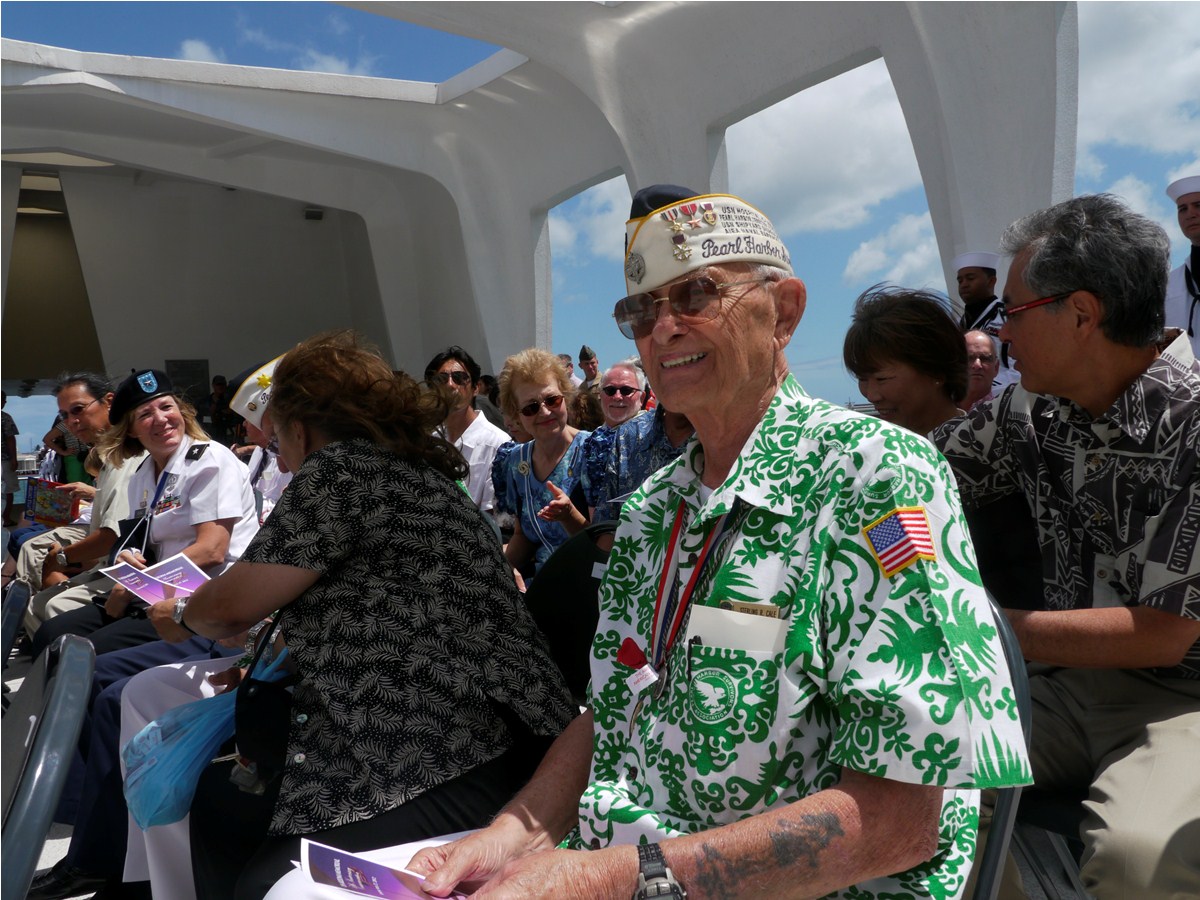 Sterling Cale
On the morning of December 7, 1941, Sterling Cale had just finished up a long night of work. He was a pharmacist's mate in the Navy, a self-proclaimed "farm boy from Illinois." He worked at the dispensary, where Sailors got their medicine. Just after signing out, he noticed planes flying over Battleship Row.
"Why are planes over at Battleship Row? That's a lot of activity for Sunday," he said.
He noticed the red circles on the planes. They were Japanese, and this was a real attack. He ran back inside to break out some guns. Outside, he saw and heard planes dropping bombs just over the water. He and his friends knew the men at Battleship Row needed their help. They headed toward the USS Oklahoma. Before they got there, it rolled over.
Sailors filled the waters of Pearl Harbor, swimming for their lives in T-shirts and shorts. The top of the water was burning. The oil leaking from the ships was on fire. Sterling and his friends had to swim underwater as much as possible to avoid getting burned. It was their job to help rescue people from the water. He was right there in the water when the USS Arizona blew up. No one who heard that deafening sound would ever forget it. After the initial explosion, it burned for two-and-a-half days.
Sterling remembers, "In four hours, I picked up about 45 people. Some were dead, some were badly burned, some were just tired. We would get them in a boat going by." He still tears up when remembering what it was like.
Funny story: When he first returned to his duty station, he was scolded for breaking into the armory during "peacetime." (War wasn't declared until the next day.) Instead of getting in trouble at captain's mast, he was awarded with a carton of cigarettes and an award!
When final numbers were tallied, it became clear that the USS Arizona had been hit the hardest. Of the 2,390 lives lost from the attack, 1,177 belonged to Arizona's crew. It was Sterling's job, along with a detail of 10 men, to remove bodies from the burning battleship. They did their best, but it was difficult work. Besides being emotionally draining, it was physically challenging. There weren't many identifiable bodies to recover.
For three weeks, the detail kept track of the condition and location of the remains they found. Sterling tearfully remembers seeing ashes blowing across the deck of the ship. It took him a minute to realize that they were the cremains of young men. They had burned to ashes when the ship exploded. The fire was so intense that it even melted ID tags and guns. Overall, Sterling's work team removed about 107 identifiable bodies and a number of unknowns. Their families would never know exactly what happened.
He can still picture the scene like it was yesterday. It was a trying time in his life and career, but it did not discourage him from serving the United States with pride.
Sterling later served at Guadalcanal before going "blue to green" and joining the Army. He served as the head of the pharmacy at Tripler Hospital and a medical company at Schofield Barracks. He then served over a year on the front lines in Korea in 1950. Eventually, after more service on Oahu, the mainland, and in Vietnam, Sterling retired from the Army as a sergeant major.
It is not surprising that his service didn't end there! After his military service, he enjoyed a long and successful civilian career. He used the linguistic and medical skills he gained during his years in the military. He also raised a family with his wife of over 70 years. They have two children and four grandchildren.
Even though some consider the 91-year-old "retired," he may argue otherwise. He stays active and volunteers three mornings a week at the Pearl Harbor Visitor Center. He also participates in videoconference programs, speaking to students all across the country.
"Instead of doing things I have to do, I'll do things I want to do," he says. And what he wants to do is to share his story and honor the lives lost and lessons learned along the way.
Sterling and other treasured Pearl Harbor Survivor volunteers can be found at the Pearl Harbor Visitor Center on Monday, Wednesday, and Friday mornings. The survivors love to greet visitors, shake hands, take photos, and share their stories so the lessons will not be forgotten.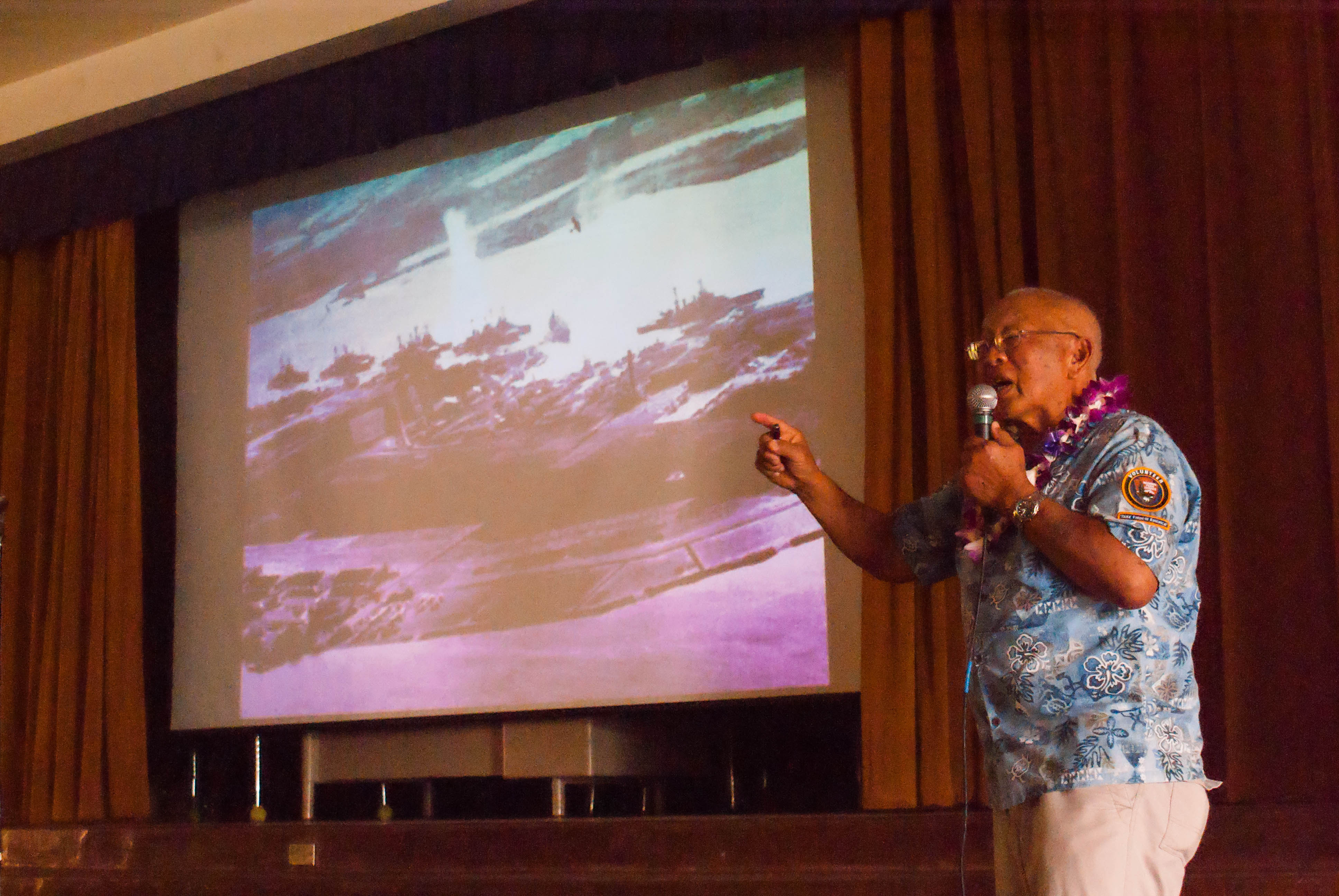 Jimmy Lee
James "Jimmy" Lee was 11 years old on December 7, 1941. He and his family lived on a farm on the shores of Pearl Harbor, less than a mile from Battleship Row and Ford Island. When he woke up that morning, it was just like any other Sunday. He and his brothers went outside to feed the pigs, and then the attack began.
They saw the planes flying overhead.
"'Oh, wow!' we said. We thought it was like a show." Jimmy remembers.
They sat on the railroad and watched the planes flying over Pearl Harbor. They had no idea that this "show" was America's entry into WWII.
"We were not scared," he says. "We didn't know. Once they told us, 'Don't you know this is war?' …then we were scared!"
He and his family eventually sought shelter toward the mountains near Waimalu Valley. They waited there for at least an hour, until the attack was over. They were unsure if there would be more to come, but headed home.
Jimmy's best friend Toshi Yamamoto's family was Japanese. Jimmy and Toshi were neighbors and classmates at Aiea Elementary from 2nd through 5th grade. They played together every day. When the Lees returned from seeking shelter, Jimmy went to check on Toshi. He was nowhere to be found. Everything in his house was gone. There was no note or hint as to where they went.
In the years following the attack, Hawaii was under martial law. Martial law means military government. There were curfews, so kids had to be in by certain times of the night. Sometimes Jimmy and his brothers would get stopped in the mornings because it was too early. Eventually the soldiers learned that they were just going to feed their animals!
When they were old enough, Jimmy's brothers joined the military to do their part, but Jimmy stayed behind. He was too young to go. Instead he lived at home, went to school, and worked on the farm under martial law.
Martial law also meant blackouts - no one could use lights at night. That meant no homework was assigned at school! (For the most part.) Food was rationed, and the news and mail were censored. This lasted for almost three years. Martial law ended in October 1944.
When the war ended in 1945, Jimmy was thrilled. His brothers would be coming home. He knew he wanted to serve in the military too, so he joined the Hawaii Air National Guard. He was later drafted into the Army, eventually transitioning to the reserves. His military career took him to Germany, Korea, Japan, Guam, and the U.S. mainland.
After retiring from military service, he served in the U.S. Army Corps of Engineers. He eventually retired after 42 ½ years of federal service. In 1988 he was even appointed "Honorary Ambassador-at-Large" for Guam!
In addition to enjoying his ever-growing family (now 41 in all!), Jimmy enjoys traveling, especially to China and Japan. He also volunteers for the National Park Service. Jimmy is a valued member of the education team. He is always willing to share his stories with students near and far.
Over 70 years later, Jimmy still wonders what happened to his friend Toshi. For 20 years, every December 7th, he wrote the editor at the daily paper to see if they could write something to help him find Toshi. Sometimes they would, sometimes they wouldn't. He finally gave up in the 1990s. He uses this story to remind students that great friends are precious. They should not be taken for granted!
The same could be said for the great volunteers who serve our country by donating their time. Jimmy is one of those great volunteers who can be found at the Pearl Harbor Visitor Center most Wednesdays.