Shrine Room Closed

The Shrine Room of the USS Arizona Memorial will be closed for construction for approximately 5 weeks. Access to the USS Arizona Memorial will still be available during this time and viewing of the construction will be visible.
Inventory & Monitoring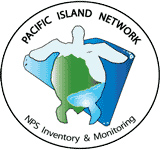 Pacific Islands Network - Inventory and Monitoring Program
The Inventory and Monitoring Program (I&M) is a major component of the National Park Service' strategy to improve park management through greater reliance on scientific information. The Pacific Island Network (PACN) is one of 32 National Park Service Inventory & Monitoring networks of national parks linked by geography and shared natural resource characteristics.
Spanning islands in American Samoa, Guam, the Northern Mariana archipelago, and Hawai'i, the Pacific Island Network encompasses an area as large as the continental United States. The islands and near-shore marine areas within the National Park System protect a wealth of the planet's aquatic and terrestrial biodiversity, unique geologic features, and historic and cultural sites. Isolated from the continental land-masses, these federally protected areas share similarities, including threats from invasive species, limited land area, and finite resources inherent on islands.
Science Helps Protect Park Resources: National park managers face complex issues that require a broad-based understanding of the condition of park resources. Understanding the dynamic nature of park ecosystems and the impacts of human activities is essential for management and decision-making in the PACN. Through the I&M program, inventories are conducted to investigate the status of natural resources, and monitoring techniques are developed to look for changing trends. Coupled with careful data organization these I&M components provide park managers with the tools they need to make informed decisions to preserve and protect our nation's natural heritage.
Did You Know?
The majority of the USS Arizona's crew went down with the ship; however, 337 crew members survived. Today, interments for deceased USS Arizona survivors are conducted on the ship. Over 25 interments have been conducted on the USS Arizona.