Join Our Friends
The Friends of Valley Forge Park sponsor educational, interpretive and awareness programs, foster and encourage conservation, and assist in the collection and preservation of historically significant artifacts and structures. The Friends assume this role as a means of support to ensure that Valley Forge will continue to remain a significant historical event and place in our country's history.
Use it? Enjoy it? Support it!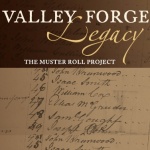 Roots to the Revolution
The Valley Forge Muster Roll Project has made it's digital debut! During the American Revolution the Continental Army used monthly muster rolls prepared at the company level to track the army's strength. Each roll contains names, ranks, dates of enlistment, and other notes on soldiers' assignments, activities, or conditions. These records are perhaps the most reliable method to track the service of Revolutionary War soldiers.
Today you can search through the Muster Roll for soldiers by their last name, state, or regiment. Visit the NEW Muster Roll website for details, and let the search begin!


Did You Know?

Precision marching was the key to victory on the 18th century battlefield. Inspector General Baron von Steuben made marching the central element of his training program at Valley Forge. By May the army was able to stay in formation while advancing and retreating over all types of ground.