Veterans Day Commemoration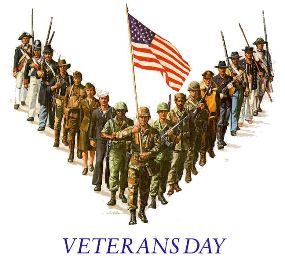 Monday, November 11, 2013
Valley Forge National Historical Park will commemorate the Continental Army's legacy, and honor all of America's military, past and present, with special events throughout the day.
11 a.m. Commemoration Ceremony
at the National Memorial Arch
Guest speakers from the National Park Service and the Military Order of the Purple Heart, as well as several local and national military organizations will honor our nation's heroes through traditional ceremonial services. Concluding the event, an Oath of Enlistment Ceremony will induct twenty new recruits into the United States military. Immediately following the ceremony all military personnel and their families are invited to a reception in their honor in the Education Center, located next to the park's Visitor Center.
12 p.m. - 3 p.m. American Military Through the Ages at the Muhlenberg Brigade Huts
Following the morning's ceremony, park staff, volunteers, and veterans will present America's military history from the perspectives of a variety of conflicts including the Revolutionary, Civil, and Vietnam Wars.
Valley Forge Trolley Tours 90 minutes
Guided tours depart from the Visitor Center at 12 p.m. & 2 p.m.
10% discount will be given to all military personnel.
Ranger-led Walking Tours 40 minutes
Meet outside the Park Theater at 12:20 p.m. & 2:20 p.m.
and walk 1/4 mile to Muhlenberg Brigade Huts.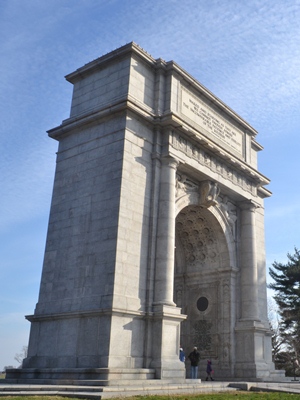 Program Participants

Captain Harris D. Buckwalter
American Legion Post 0164 Royersford, PA
VFW Post 6341 Royersford, PA
Bugles Across America
Colleen Mellor, Soloist
Valley Forge Military Academy & College
The Military Order of the Purple Heart
The Friends of Valley Forge Park
Disabled American Veterans
Chapter 25 Collegeville, PA
Harrisburg Military Entrance Processing Station

Valley Forge Recruiting Company "Patriots"

Pennsylvania Army National Guard, Team Valley Forge
Recruit & Retention Battalion
78th Army Band Brass Quintet
Fort Dix, NJ
To all military personnel, from all of us at Valley Forge, we thank you for your service.
Parking
Parking for the commemoration ceremony is available at the National Memorial Arch. Additional parking is available at the Wayne's Woods Picnic Area, just past the Arch 1/4 mile on the right. Follow the Encampment Tour Route (Outer line Drive to 252 to Rt 23 East) to return to the Education Center located in a separate building adjacent to the Visitor Center.
This event is free and open to the public.
Did You Know?

Valley Forge was the third of the eight American winter encampments during the Revolutionary War. It is the best known of the eight, however, because it is remembered as the birthplace of the Continental Army.