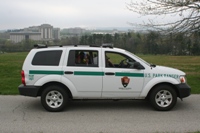 Valley Forge National Historical Park Law Enforcement personnel are on patrol to protect you while you are in the park. These park rangers have full police authority and may issue citations and arrest violators. Valley Forge recently combined our police dispatch operations with the Montgomery County Emergency Operations and Dispatch Center. This change, along with a project to assign addresses to each structure in the park, has increased the ability of law enforcement to locate you quicker during an emergency.
For an emergency dial 9-1-1
For non-emergency situations dial 610-275-1222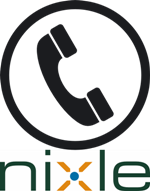 Community Notifications
Valley Forge National Historical Park utilizes the Nixle Community Information Service which delivers trustworthy and important neighborhood-level public safety information including park closures, weather alerts, and emergencies directly to your cell phone via text message, email and/or the web. The information you receive will come directly from Valley Forge NHP Law Enforcement.
There is no spam or advertising. The Nixle service is completely free (standard text message rates apply for cell phone subscribers who do not have text plans with their cell phone providers). Register now and learn more at www.nixle.com.
To sign up for Valley Forge Community Notification messages now, text VFPARK to 888777.
Firearms in National Parks
As of February 22, 2010 a new law regarding firearms in National Parks has been in effect. Visitors may possess firearms within a national park unit provided they comply with federal, state, and local laws.The role of the responsible gun owner is to know and obey the federal, state, and local laws appropriate to the park they are visiting. Please remember that federal law prohibits firearms in certain park facilities and buildings. These places are marked with signs at public entrances.


Park Regulations
For your safety and the safety of those around you, please follow these park regulations during your visit to Valley Forge National Historical Park:

- The possession or consumption of alcoholic beverages is prohibited.
- The use of skates, skateboards, roller skis, in-line skates & similar devices is prohibited.
- The use of bicycles on other that approved trails is prohibited. In general, all trails on Mt. Joy & Mt. Misery are closed, as well as fields.
- Use of snowmobiles is prohibited.
- Driving or parking outside of established roads & parking areas is prohibited.
- Open flame fires are prohibited. All cooking fires are restricted to designated picnic areas & must be charcoal.
- Gathering of flowers, nuts, fruits, for other than limited personal use is prohibited.
- Gathering of plants, wood, pine cones, rocks, and artifacts; of any kind is prohibited.
- Use of metal detectors or digging to retrieve any object is prohibited.
- Climbing on earthworks, cabins, cannons, monuments or any other structures is prohibited.
- Feeding of any wildlife is prohibited.
- Harassing of wildlife by spotlighting is prohibited.
- Having a pet unleashed is prohibited. You are required to clean up after your pet.
- Launching of model rockets is prohibited.
If you have any questions please check with a park ranger or call 610-783-1050. For a complete list of the rules and regulations for Valley Forge please read the Superintendent's Compendium.