Trail and road closures due to ongoing work related to the Asbestos Release Site cleanup

Access to various trails will be closed intermittently throughout the summer. For a full list of closures click on the following link: More »
Rehabilitation and New Connection for Multi-use Trail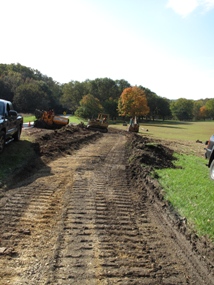 This fall, the Park will be rehabilitating various damaged sections of the Joseph Plumb Martin Multi-use Trail (JPM Trail). Trail sections to be repaired include a 1,775 lineal foot section extending from the Maine Memorial Marker on North Outer Line Drive to Gulph Road, a 600 lineal foot section near the Visitor Center along SR23, and a 1,000 lineal foot section reaching from the new connector trail at the Washington's Headquarters Complex to the entrance road to the Valley Forge Train Station. The trail will remain at its original 8-foot width to prevent further soil disturbance and to allow efficient maintenance for all seasons.
In addition to this rehabiltation, a new trail segment will be constructed to connect the terminus end of the JPM Trail at the Washington's Headquarters Complex area with the network of trails on Mt. Joy and Mt. Misery (including the Horseshoe and Valley Creek Trails). A new pedestrian cross-walk mechanism will be installed at the intersection of Rt. 23 and Rt. 252 as well.
Updates:
The paved multi-use Joseph Plumb Martin trail within Valley Forge NHP will be undergoing extensive rehabilitation starting October 13, 2009. During this time, segments of the trail will be closed to ensure visitor safety. Signage indicating closures will be posted at those locations. Proceeds from the 2009 Revolutionary Race have contributed to this trail work.
Trail sections to be rehabilitated:
-600 Lineal Feet from the Administration parking area toward County Line Drive;
-1775 Lineal Feet from center point of North Outer Line Drive and ending at Gulph Road;
-5000 Lineal Feet from new trail connector at Washington's HQ toward intersection with SR23.
For your safety, please be aware of construction activity and trail closures.
Did You Know?

Visitors annually contribute $21 million to the local economy, generating over $7 million in wages and salaries, and supporting 667 jobs in the area.