Touring the Park
Begin your tour at the Visitor Center
Pick up the park map, stamp your National Parks Passport, and browse The Encampment Store. Staff and volunteers are available to assist you and help plan your visit.
The Visitor Center is also home to the park's museum collection and contains exhibits pertaining to the 1777-1778 winter encampment and the Revolutionary War, and the cultural and natural history at Valley Forge. Just next door in the park theater, plays an 18-minute orientation film, "Valley Forge: A Winter Encampment," shown daily every half hour from 9:30 a.m. to 4:00 p.m..
GUIDED TOURS
Ranger-led Walking Tours
These 40-minute guided walks travel 1/4 mile from the Park Theater (next to the Visitor Center) to the Muhlenberg Brigade Huts. Tours cover various topics from the Valley Forge winter encampment and the American Revolution. At the end of the walk, visitors can learn more about camp life by touring the replica log huts and surrounding historic area of the Muhlenberg Brigade.

Tour Schedule
September 1 through November 30, 2014......Weekends at 10:20 a.m. and 12:20 p.m.
Trolley Tours
Hop aboard an old-fashioned trolley and enjoy a 90-minute guided tour of Valley Forge. Tours depart from the front of the Visitor Center and make extended stops at the Muhlenberg Brigade Huts and Washington's Headquarters. Accessibility information >>

Tour Fees:
Adults: $16.50
Students, seniors (62 and over), and active military: $13.50
Children (11 & under): $8.50

2014 Tour Schedule:
August 18 through September 1.........Daily at 11 a.m., 1 p.m., and 3 p.m
September 6 through October 26.......Weekends at 11 a.m., 1 p.m., and 3 p.m.
October 13 (Columbus Day)...............11 a.m., 1 p.m., 3 p.m.
November 1 through November 23.....Weekends *WEATHER PERMITTING* at 12 p.m. and 2 p.m.
November 11 (Veterans Day).............12 p.m. and 2 p.m.
November 28 through November 30...11 a.m., 1 p.m., 3 p.m.
December 26 through December 30...11 a.m., 1 p.m., 3 p.m.
Call The Encampment Store at 610-783-1074 for additional tour information and to reserve tickets.
Bicycle Rentals and Tours
Two-hour guided bicycle tours follow the park's popular 5-mile Joseph Plumb Martin Trail, which passes a number of the park's significant tour stops. Participants can use their own equipment or rent a bike at a discounted rate of $15. Participants must be at least 12 years of age. Tours depart from the Visitor Center. Valley Forge Bike Rental is located in the lower parking lot of the Visitor Center. Contact Valley Forge Bikes at 610-783-4593.
Learn more about park trails and download maps and brochures.
2014 Tour Schedule
October 25th tours have been cancelled.
Dates for the spring season to be announced in early 2015.
Tour Fee: $10 per person (plus rental)
Call 610-783-1074 for more information.
Bicycle Rental Hours of Operation
September and October...............Weekends- weather dependent
Bird Walks


See or hear different species in a variety of seasons and habitats. Walk is intended for birders of all levels, beginners welcome and encouraged.
Each program lasts approximately 2 hours and covers 1.5 miles walking. The walk is mostly along paved trails but includes short sections of gravel and grass. Good walking shoes are recommended.
Binoculars, hat, water, bug spray and sun protection optional.

Program Times
September 16, 23 and October 14, 28. Begins at 8:00 am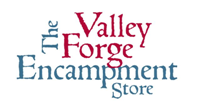 Private Tours
Whether you are planning a group bus tour or a family outing to Valley Forge,The Encampment Store will help you and your guests experience and explore the history, personal stories, and the landscape of one of our nation's most significant Revolutionary War period sites.
Our official National Park Service-trained tour guides will board your bus or personal vehicle and lead your group through an enlightening and entertaining tour of the park. Tours last approximately two and a half hours and include stops at the Muhlenberg Brigade huts and the original house that was once General Washington's Headquarters.
Reservations are required.
Contact The Encampment Store at 610-783-1074 or tours@encampmentstore.org for more information, availability and fees, and to make your reservation.
SELF-GUIDED TOURS
The Encampment Tour (Driving Tour)
Valley Forge Park has nine major tour stops that follow the 10-mile Encampment Tour Route. This driving tour can take anywhere from 20 minutes to upwards of 2 hours depending on how often you stop. The tour takes you past some of the most scenic views of the park and to many historic monuments and sites. Follow the red line on the park map and the green and yellow signs (right). A 60-minute CD audio tour is available for purchase in The Encampment Store and online.
Cell Phone Tours
Valley Forge National Historical Park is full of great stories. Now, simply hear them come to life 24/7 from the convenience of your own cell phone. It's easy! Call 484-396-1018. The tour is free, but you will use your own cell phone service and minutes.
Download the tour directory or pick one up at the Visitor Center.
También disponible en español en 484-396-1015.